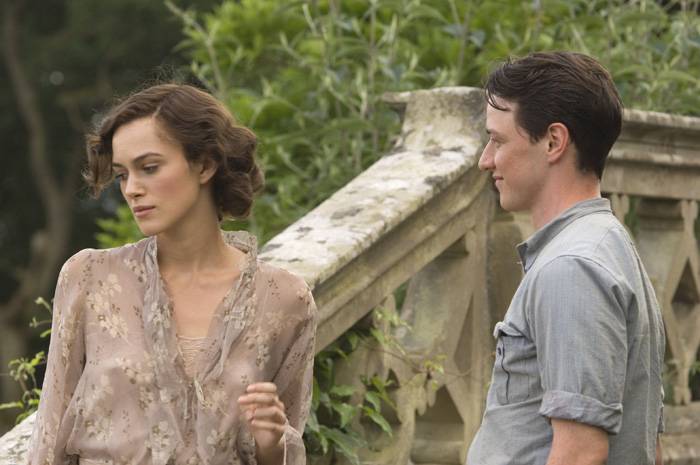 There's much to admire in the glassy expanses of "Atonement," yet much that's puzzling as well.
Adapted from Ian McEwan's 2001 novel by Christopher Hampton ("Dangerous Liaisons"), and directed by Joe Wright (2005's "Pride and Prejudice," which also stars Keira Knightley), it's easily the most sumptuous and visually patterned movie on screen this season. And while I have reservations about the overall weight of the film—its beauties aren't quite those of the novel and on one viewing, the themes aren't entirely clear to me—there are moments in the third act where the remorselessness of the emotional reversals had me blinking. Authors fabricate, but at their own risk in real life. That seems to be "Atonement," wrapped in lies and the aftereffect of lies, with compositions rife with glass and reflection, water and more water.

Briony Tallis (Saoirse Ronan) is a precocious 13-year-old writer. She sees something she doesn't understand involving her sister, Celia (Keira Knightley), and accuses Robbie Turner (James McAvoy) of a crime of which he is innocent. Briony's sexual jealousies are prehensile but deadly. When Celia, or "C.," as she is cutely called, has moments that appear romantic with Robbie (the first of which Briony observes is in fact something other), Briony goes mad. As the movie opens, we see Briony in her bedroom, where the wallpaper is covered with lush, outsize green foliage, hothouse madness like an image from Douanier-Rousseau, huge perfumed flowers grown wild. Ah, the imagination of an authoress-to-be. Wright's bold visual metaphors evoke more sighs than moans.
Wright is also fond of his leading lady. Knightley's terrifically charming presence grows into something more as the story's melodrama, dialogue delivered with crisp, clipped snap. The director rightfully admires his actress' body and body language. Insistently so: she's given more than one chance to challenge Botticelli's Venus as she rises from a lilypad-strewn garden fountain and a wet slip clinging to her form with a pronounced blush of bush. Her coltish characteristics are winsomely front-and-center, a bodily equivalent to the transparent effects of McEwan's prose style. Wright perches a full-length C. in bathing cap atop a diving board on a hot afternoon, the weight bending it downward, arched like a foot atop which she arches her own. C. plunges into the pool, and there is a hard cut to Robbie rising from beneath the surface of water in a porcelain tub where he immediately glimpses in the skylight above a warplane overhead. And the scene involving the fountain rhymes with a much, much later image that may be the movie's most memorable and haunting. The second time we are shown the scene, from the adults' perspective, it ends with Robbie's palm reflected just about the water's green surface after C. has gone. There's a cut to Briony, who's watched from an upstairs window and misunderstood the tableau, closing the window, dusty tint on roughly annealed glass and golden light on her pale round face, two mirrors. Reflections, windows, doors and water: Wright thrives on these things. (Briony is pronounced "Briny," another fret of literary latticework.)
Mirrors, glass, reflection, annealment, layering and presaging: these are the recurrent joys of "Atonement." When Robbie has sealed a fateful note of apology to C., the fountain pen's barrel rolls toward a sheet of paper: one of many small gestures that accrue to terrible effect. There's confusion: it's spelled out in four hard hammer strokes of typewriter keys banging onto the screen, four letters of a harshly powerful, harshly sexual word. (McEwan did not dub Celia "C." for no reason.) Strangely sensual is Robbie's casual OCD, brushing fingertips over things, or when as one of a trio of lost soldiers, Robbie Turner trudges the sunrise-and-mist fields of rural France, as if within a William Turner canvas. (And later, when they happen upon the terrible sight of an apple orchard carpeted with slaughtered schoolgirls in their matching black-and-white uniforms.)
An extended single take traversing space populated by thousands of men on the beach and beyond at Dunkirk has been amply noted, described and inoculated by description. The shot dizzies itself, awestruck by its panoply of material. Yet Wright moves from epic to intimate readily: a close-up of a postcard image of a shack by the sea is lit by flickering match flame which is accompanied by the sound of breakers at seaside, like the very last moment of Michael Snow's epic single-take film, "Wavelength." Wright does something canny and breathtaking at the end of the movie that shows rare intelligence, offering a quiet capstone to the story's brute turns, a single, extended take of great duration that is simplicity itself: a close-up of a weathered female face. (And what a face it is and what an actress this figure is.) This sustained take challenges the complexity of the earlier, bravura sequence shot, as if Wright is aware of the substantial difference in emotion between the two sequences that grow from their uncommon duration. Dario Marinelli's oft-percussive score warms the chillier parts of the movie; Seamus McGarvey's cinematography is simply epic. Best picture? Very good picture, at the very least.
"Atonement" opens Friday at Landmark Century.