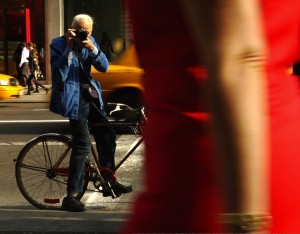 By Ray Pride
"Bill Cunningham New York" is as casual as a documentary comes, yet it's rarefied air within a straightforward environment, examining a timeless rara avis, a frame-snap-run photographer, a promiscuous shooter of fad and folly whose work has capably scoped high and low of fold and cut, of fashion and style, across the fabled island of Mannahatta for decades now.
The enforced modesty of Richard Press' documentary production—two consumer-grade cameras, no crew, at the ascetic, impatient Cunningham's insistence—precludes the film from ever sweeping the shutterbug from his customary setting: the street, or more precisely, one of several Midtown corners. Like the longstanding practice of Cunningham, 80 or so when the footage was shot, the esthetic is point-and-shoot, a grab at a snap of beauty. Not wanting to be watched, still Press' camera catches him as he crouches like an animal, lanky yet still a grinning joyful leprechaun, a limber, learned beast, arm upraised, his camera centered, shot taken. Clack-clack-clack of the mirror as the 35mm shutter clicks: deeply private and shy man has just taken your clothes from you and pressed them into service of his Sunday newspaper layouts.
He wears khaki pants and a long blue coat—a French streetcleaner's cotton jacket—and sometimes a reflective vest, resembling French image-makers Eric Rohmer or Chris Marker, invisible, elderly rack of bones. Press knits his story with shots of Cunningham on a "classic Schwinn," his twenty-ninth (he claims the previous twenty-eight of his cheap, functional steeds were stolen). Ever in a hurry, his life seems complete in frames of him peddling through Times Square and then some darkened side avenue, the strange life of a restless, relentless boulevardier.
For a bicycling ghost, Cunningham's an active wraith, a brilliant spirit, alive to every awaiting frame, a giggling misfit always playing with what's left of his white hair. That's how the film grows tender. Ever-implied yet unexamined class issues fall away. The death of an era, an era already passed, is embodied in one man whose eye remains vital and, to his mind, uncompromised. Tom Wolfe is seen on his divan a time or two, hammering utterances like "New York is about status, that's all it's about. This is not a pleasant city to live in aside from the fact that there are a lot of people here who are ambitious."
Cunningham mingles with social whales like William Koch, of the notorious Koch Industries, who finances many of the toniest New York nonprofits as well as tributaries of the Tea Party. Cunningham doesn't care. It's either street fashion or the very, very, very wealthy for him. "I'm guessing he might actually have come from a wealthy family… but I've actually never asked him," says Annie Flanders, publisher of the downtown incarnation of Details magazine, which featured hundreds of pages of his work.
Cunningham claims never to look at an event's guest list. "Don't bother even telling me, because I'm not interested. 'Your royal highnesses' and blah-blah-blah." High and low, night and day. "I'm not there to be wined and dined. I certainly wouldn't compromise the Times. I wouldn't even have a glass of water. Period." In many senses, he's a Parisian flâneur but also Manhattan's own ascetic trickster. The most unabashed of his many grins comes when he's pinned in Paris with his Officer in the Order of Arts and Letters… wearing his French street-cleaners coat.
He's a prolific monomaniac. Ascetic? Also monastic. He's lived for forty years or so in a tiny, file cabinet-choked apartment without amenities. "Who the hell wants a kitchen and a bahhthroom?" he trills. We see him using a coin laundry and cash on his desk at the Times is a fold of several twenties held modestly with a naked paper clip. "You touch the money?" he says. "That's the important thing, never to be owned, money's the cheapest thing, liberty, freedom's the most expensive." He's interested in clothes, not food, not movies, not stars, not even Catherine Deneuve. "My dear, it's not work, it's pleasure. I'm gonna miss a good picture?"
The New York Times takes a shared copyright on this film, if not on Andrew Rossi's upcoming "Page One: A Year Inside The New York Times." Still, both function as crafty legerdemain in the same annum, placing two crusty career eccentrics front and center as the face of a media enterprise-cum-newspaper that is increasingly conservative politically, while increasingly progressive in cultural coverage. "Page One"'s star is the crusty, gravelly, bold, beaten-down, never-battered media reporter David Carr, whose "Media Equation" column appears on Mondays. Cunningham's older, yet they're both frail and intrepid, audacious eccentrics bowling down the center every time.
Cunningham's from Boston, with a squirrelly voice that sounds New England patrician, honking, decidedly archaic, that if handed down from his Catholic working-class parents, was also a voice that his parents must have heard as children from someone born in the mid-1850s. Intermittently, there's filmed footage from an internal Times session twenty years ago, when Cunningham was a mere 60. "Fashion… uh… you know, in point of fact, it's the ahmur to survive the reality of everyday life. I don't think you can do away with it. It would be like doing away with civilization." There's a very good reason this appears so late in the film: it's not just from his heart; it's the reason for this film itself.
Cunningham's photography is estimable, painstaking, brisk, beautiful, fantastic, singular documentary yet nonetheless he remains a cultural foil. He toils outside that definition. "It's as true as it ever was," his voice cracks after he's pinned with the Officer in the Order of Arts and Letters brooch, "He who seeks beauty will find it."
"Bill Cunningham New York" opens Friday at the Music Box. Cunningham's brief 2002 text on his life, "Bill On Bill," is here.
Ray Pride is Newcity's film critic and a contributing editor to Filmmaker magazine.
His multimedia history of Chicago "Ghost Signs" will be published soon. Previews of the project are on Twitter and on Instagram as Ghost Signs Chicago. More photography on Instagram.