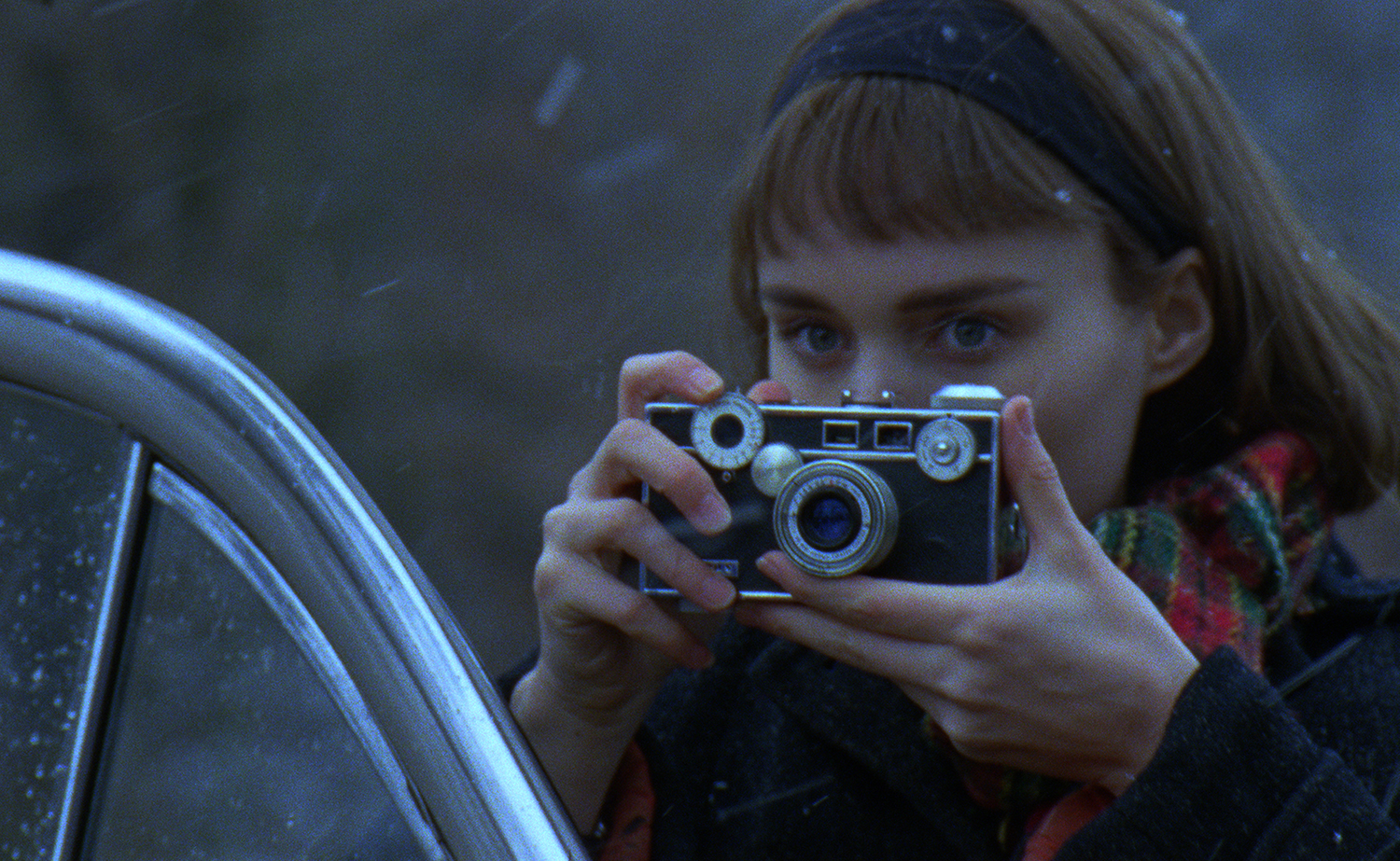 By Ray Pride
Todd Haynes' "Carol," one of 2015's best films, is subtle without ever being sedate, simply and lusciously visualized, yet also attentive to every flutter of the potential of a relationship between two women in the 1950s. Adapted by Phyllis Nagy from Patricia Highsmith's pseudonymous second novel, "The Price of Salt," Haynes may have crafted his best feature, merging intelligence and emotion in a rich, immersive canvas. A society woman in an unsatisfying marriage, Cate Blanchett's Carol is matched for emotional perplexity by Therese, Rooney Mara's younger shop clerk and photographer manqué. What does it mean when the two of us are in the same room, they survey, in a succession of gestures, ventures and setbacks. Haynes' lapidary precision embraces the fall, the fear, the luxuriant allure of longing and maybe lasting love. Haynes and I talked about the film's style during the Chicago International Film Festival in October.
The script came to you with Cate Blanchett attached. That sounds like a fine way to begin.
It was! As I read, it was like starting to watch the movie already happening. And the same with reading the novel for the first time, which I didn't know. It all came in a pretty potent little basket. And something that I didn't start—
Or agonize over.
[grins] No, the agony came shortly after.
So the text you began with was Phyllis Nagy's very good screenplay and then the novel was the afterthought?
I thought Phyllis made so many smart choices with the book. I think I read the book first. It was in one weekend, I just went to the Oregon coast and had them both with me and I read them back-to-back. I still can't remember which I read first. But there were really interesting things in the book that I also wanted to go back to and talk to her about. It also made me think of a couple of films right off the bat that were instructive, that made a direct impact on the structure. "Brief Encounter" is the first I thought of when I read both. But I could tell, I could feel this, they had been trying to get the thing made for so long that I sensed there were earlier drafts of this script that were less defanged. When I talked to Phyllis about it, she was like, "Yesss! Awesome!" What you try to do is make it more congenial to a financier. And so everything felt a little more kind of… compatible… with the two women right away. And I loved the tensions in the book.
There's true reticence as their acquaintance motors along. A modern audience might expect more sooner. It's tentative, we're going on a trip, we're doing this, and they make motions toward each other, and they're acquiescing physically, but they don't consummate.
Yeah, you're just wondering, how will they, will they? And then you also are reading against your own hope that they will, or investment that they will, or banking on the fact that they will, against the social codes of the time. And sometimes the social codes of the time surprise you, and you're like, oh, two women can check into a motel together. And it's perfectly acceptable for them to be in the same room. Where if it was an unmarried heterosexual couple, it would have been unheard of. It doesn't even occur to you. So there's little pockets of freedom that they make use of. But you're reading all these signs the way Therese is reading every sign in Carol's presence for some clue.
There are lines of dialogue that have high functionality, working as both characterization and as structural elements. One in particular I can think of is, "I'd show you but I'm sort of confined behind this desk." It's wry and dry, not quite ripe, but it's functional, it's ornamental, it's an instant instinct of how to state the case while just barely flirting… It reveals that Therese has a native intelligence about the cautious way she phrases things.
Mm-hm! She's a combination of somebody with a lot of instincts and then an utter lack of opinion or critique. She doesn't have any boundaries. Like she says,"I don't know how to say no." She doesn't have the experience to know what to accept and what to reject in life. She's still figuring everything out in that sort of void.
Which leads to another line, over their first lunch, "Well, I barely even know what to order for lunch." It's quiet, but clamoring to be taught, to be instructed.
Mm-hm.
When did you first take notice of Mara? I was struck even by the "Nightmare on Elm Street" film, her first chance to effloresce. Who is this mumbling but bold presence?
I think I saw most of her leading roles and of course, the opening scene of "The Social Network." I was always such an admirer of her ability, her confidence in underplaying scenes and characters. Going to the expected place, like in "Girl With The Dragon Tattoo," making really interesting choices. I felt like she had never played anyone this simple, with a trajectory that begins with such a blank slate.
The first time they see other in the department store, I'd say Carol's being direct but not hungry, and how can she not perk up at this prim pixie in a Santa cap, eyes wide and still with wanton potential? That's what's on her face. I'm ready, but I don't know what I'm ready for… and… hello?
Yeah. Exactly! I think Carol immediately finds this place of retreat from the complexity of her life, and a real disillusionment in the marriage, probably feeling trapped in this milieu she's spent her entire life trying to get to and be the perfect representation of, and how to get out of it. And then finding this little detour in Therese. But I also suspect, and you feel it in times in the film, and you definitely feel it more in the novel, there's just more of everything in the novel, an impatience with Therese, a frustration with her. Or that moment in the lunch where Carol just drifts off and Rooney, Therese, is left completely at a loss as to what it means, as to what to do.
The camera makes a slight push-in on Carol when they first meet in the toy department, a little reframing, and the only other shot I remember that has that handheld effect is at the end, when Therese is looking for her in the restaurant, before you land on her looking toward the camera, Therese, us. Yearning gazes, those are powerful and easily overdone. Those make sturdy bookends.
It's all about these different strengths of restraint, different levels of restraint. One example is that lunch scene. Just the rate at which we intercut those shots. There's such great moments on both sides that the tendency, the instinct at first—oh, we have to cut to that, we have to get all that stuff in—but once you develop that rhythm of intercutting, you can't pull back from it. So you really have to set up some expectations of rhythm and pace for an audience. You can deviate from it, but you go back to it as your norm. So to just hold on to an actor when there's a change of topic, and there's that little silence. Where nothing's happening. And someone's nervously trying to change the topic of conversation. It's disquieting.
It also captures the unease of a potential seduction, you're subtly shifting to the listener instead of the speaker, the subject of desire.
Yeah.
The first shot's terrific. Under the credits you hear the racket of the New York subway. You see this grillwork and think, what is this beautiful thing, it's as gilded as a Ross Hunter title sequence, and as the camera tilts up, we see that it's a subway grating on a New York sidewalk and the camera then travels onto the street and cranes into the story. You start with this ornamental object you look past…
It feels like bars of a prison, it feels like a piece of jewelry, it feels like all of these things at once. And then trains are a recurring metaphor in the film, or point of reference. But even trains in the book have a kind of contradictory meaning where on the one hand, it shows Therese is not conditioned by traditional female toys, of dolls, she likes trains instead, and she's fascinated by the toy train, but it's also described by Highsmith as this madness of containment, it's going to maybe fall off its track, y'know? And collapse! And that's also where Therese is at that point in this store.
And it's a female author who moves far from any phallic notion of trains hurtling—
The circle! But it's a circle that's not holistic at all.
The look of the film is understated but rich. Edward Lachman shot in 16mm, and you draw from a postwar palette of pale colors, of pastels, but you also have taken influence from a number of photographers, including Saul Leiter.
Yeah, yeah. Absolutely.
You look at the images Leiter made, and the influence is apparent, but windows and mirrors and frames and occluded images are endlessly gorgeous and potentially symbolic. Moisture and fog… he opens this magic box of expressive possibilities for capturing an urban landscape.
Definitely. And for us, it became this return to the whole predicament of looking, and of who's looking at who, and what you're looking through and how much you desire getting around those screens and those barriers to the thing that you want to see.
And it's also a representation of a lost Manhattan, so your brain is enjoying the eye candy route as well.
You hope.
Carol's nail polish. I was scouring for a proper name for that color, a privileged cerise, I decided, demonstrating that she's taken care of but also takes care of herself. The color of ripe cherries. So perfect and unchipped. Hard, iconic: "Look how well taken care of I am."
Mm. Absolutely. There's that slight orange in it, though, it's like vermillion and the lipstick matches. And then there's the salmon scarf. That's also in Saul Leiter, the monochromatic colors, then that little burst of red umbrella in the corner of the frame.
You also have a range of scenes performed from behind, shoulders, body language, an underappreciated device from classical melodramatic performance. [A spoiler of sorts follows.]
There's definitely the part at the beginning where we push into the back of Therese's head after Carol has left her at the table. At that point, you're still settling into the question of whose story this is.
[joking] "It's called 'Carol'! It's Carol's story!"
[grinning, laughing] It's not Carol's story!
But you do end on an image of her. But it isn't making her the protagonist; it's Carol looking across the room and inviting Therese into her life.
Or that Therese is finally, y'know, saying yes, after saying no, which is a whole different status.
What's the function of the male character who's obsessed with movies? "'Sunset Boulevard,' I've seen it six times!"
That was Phyllis. She brought that into it.
You're describing an obsessive male gaze about movies in a movie that you're negotiating how to match these reciprocal female gazes. But here's a scopophiliac in the middle of their story.
He also says, his thesis on "Sunset Boulevard," I'm marking the space between what people say and what they actually mean.
"Carol" opens Christmas Day at Landmark Century, River East, Renaissance Place, Regal Lincolnshire, Evanston CineArts, Yorktown and South Barrington.