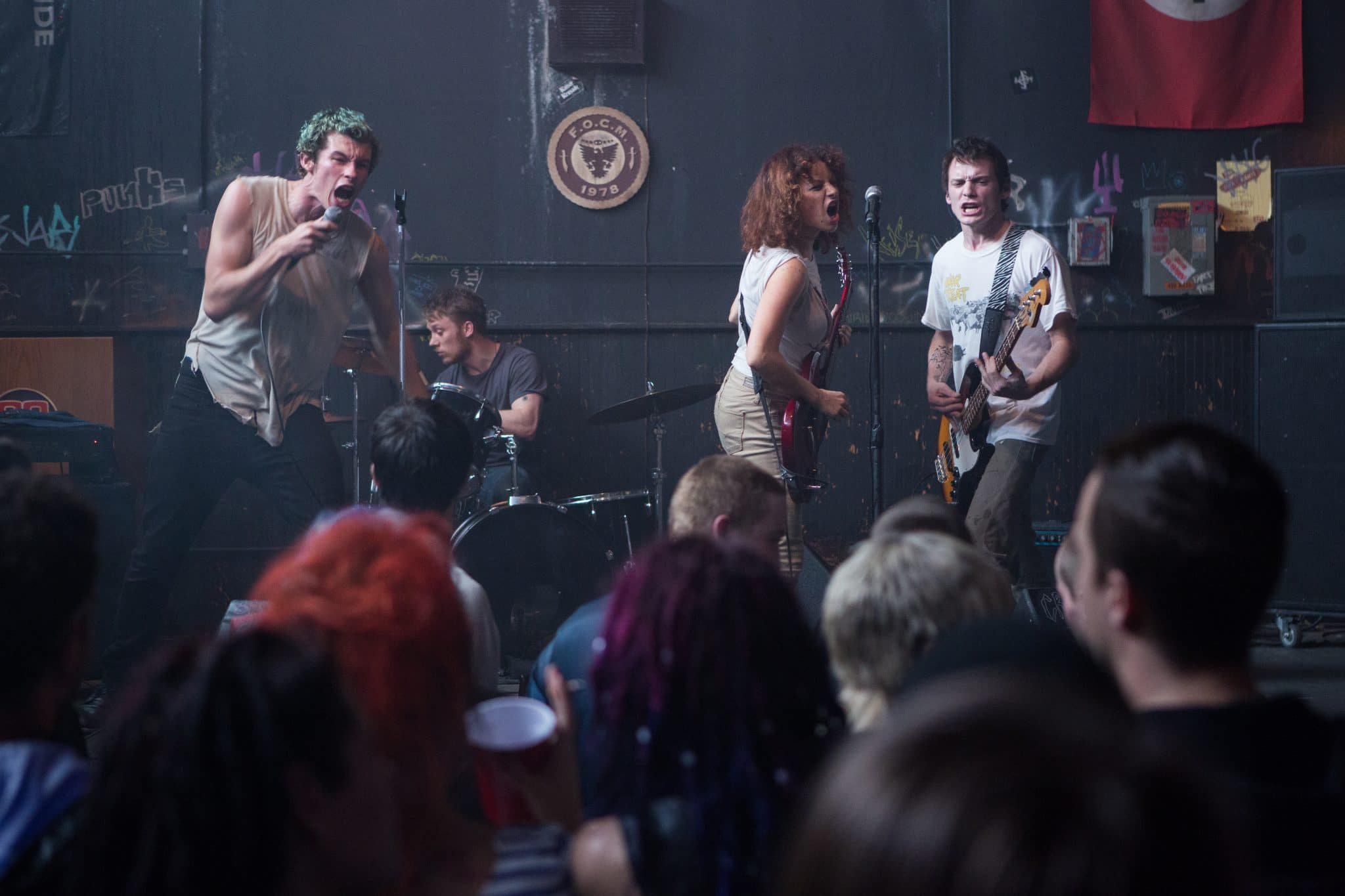 By Ray Pride
"It's all just a clusterfuck for them," writer-director Jeremy Saulnier says of the fate of the young punk-rock protagonists of "Green Room." Or as Darcy, the blunt neo-Nazi club owner played by Patrick Stewart puts it: "Things have gone south. It won't end well."
For a little while, Saulnier's razor-edge third feature as director (after the taut, grimy "Blue Ruin") is sly, even sweet in its portrait of a band in a van on the road in Oregon, but portent is everywhere, beginning with a swerve seen from on high into a tall cornfield when the driver falls asleep. Once a gig falls through and another is offered at at an isolated skinhead club located deep in the forest, The Ain't Rights are soon under siege. Saulnier wears influence lightly, not limited to "Night of the Living Dead," "Assault on Precinct 13," "Die Hard" and "Straw Dogs."
Before the life-and-death stakes, the band (including Anton Yelchin, Alia Shawkat, Callum Turner, Joe Cole) is given a slow-motion vision of the Dionysian aspect of live shows, especially hardcore punk. "Completely, yeah," Saulnier tells me on a rain-gray Chicago morning. "I had to go slow-motion for the very first time in my career. It was finally appropriate, to distill that moment, to make it more abstract but also to have a moment of purity and exchange that's genuine among this hostile crowd and the band playing, to show the attraction, why people are there, to go through all that trouble.
"The thing about bands at that level," he continues, "is that there's certainly internal strife from time to time, but it's more like road-trip bickering, because you're all there for a reason. It is the experience. You gotta show up. There's no huge record contract or peripheral issues that are going to tear you apart. When you make that kind of music, on that scale, you really have to love it. Most of the bands that I knew were friends, they wanted to be there. I didn't want there to be artificial conflict within the band. It was fun, because the actors each had distinct personalities in their roles."
Considering the economy and grace of the film's intense coverage, I ask, how does he put in words what will become a visually driven thriller? "I don't really know how to track my brain that well, but it's definitely an intuitive approach and very visual," he says. "When I write, I pre-visualize as I'm typing. I look for how I can visually unfold the movie."
Saulnier goes on: "There's a certain grammar to it, that is, shot-by-shot. The opening of 'Green Room' is certainly in the more traditional way I approach filmmaking. How do we reveal things when we pull up to show the cornfield? How do we show spatial context and then how do we transition to this minor world-building? These locations are disparate. Sometimes forty-five miles away, sometimes ninety miles away. As the film progresses and I set the stage, and I get The Ain't Rights into the green room, then it's all uncharted territory for me. I have certainly pre-visualized where [characters will be] spatially, if not shot-by-shot. Until me and the cinematographer get in the room with the actors and actually block out what's going to happen, to corral the ensemble, [in order] to keep coverage alive and exciting, that undertaking could only be with the actors on the day of the shoot. That was new! And exciting. Then there are necessities in production where I had to storyboard a whole bunch of special effects and sequences ahead of time. That really helps. I had to really start to get the dimensions and details right in the space. By the time we actually built the soundstage, I had a very clear idea how it had to lay out, and that was integral to actually making the script I wrote. The script I wrote was so based on the angles, and the doorways and space relationships and geography."
Bertolucci used to say he would arrive before everyone else, no storyboards, but he'd step into the space and be alone for a while, then bring in the actors, then the camera. "If my schedule would allow that," Saulnier says, "I would totally see that as a necessity. Just to have a quiet moment to absorb the location would be phenomenal."
"Green Room" was shot with a single camera and with multiple dolly shots. Dispensing with the grammar of handheld footage amplifies the tension. "Mm-hmm," he says. "We kicked out Steadicam and we didn't do any handheld. That wasn't the esthetic we wanted to build. We covered the hell out of it. There was an intense amount of coverage, more than I've ever done on any film. Ensemble work, where you're trapped with everybody and you have to keep it alive. It was really about archiving performance in a certain way, where we had a lot of control in the edit room to maintain that emotional continuity and keep the tension up. And then have enough coverage where we could manipulate time and space, and overlap all these lines and make them really close together and make them seem more haphazard and less spoken, more… blurted."
The vast forest, despite its expansive "freedom," could also be a confining "green room," but Saulnier says metaphors present themselves. "It just lined up that way. If a backstage holding area was called something else… that would be the title of this movie! Oregon is lush and green, and low-contrast and misty. The rock club, there's subtle variations of contrast, within the green room itself. We tried to use some warm lights, some wood texture, but the fluorescent lights definitely tend toward a green color spike."
It's the clothesline concept of writing. Your story needs are the line you hang, and patterns emerge the more you pin to the line. "Totally. A hundred percent. Once I build the environment, all my action sequences were just mined from trying to fully unitize the location. What is in a concert venue? Okay, we've got amplifiers and microphones and we've got a kitchen over here. You discover it."
What a versatile weapon a mic stand makes. "Bludgeon, and then the bonus is the rock 'n' roll feedback. That was a fun sequence to develop, it's like, oh shit, this is kinda rock 'n' roll! But also perfectly suited to the scene."
"Green Room" opens Friday, April 22 at the Music Box. The MNSFW "red band" trailer is below.