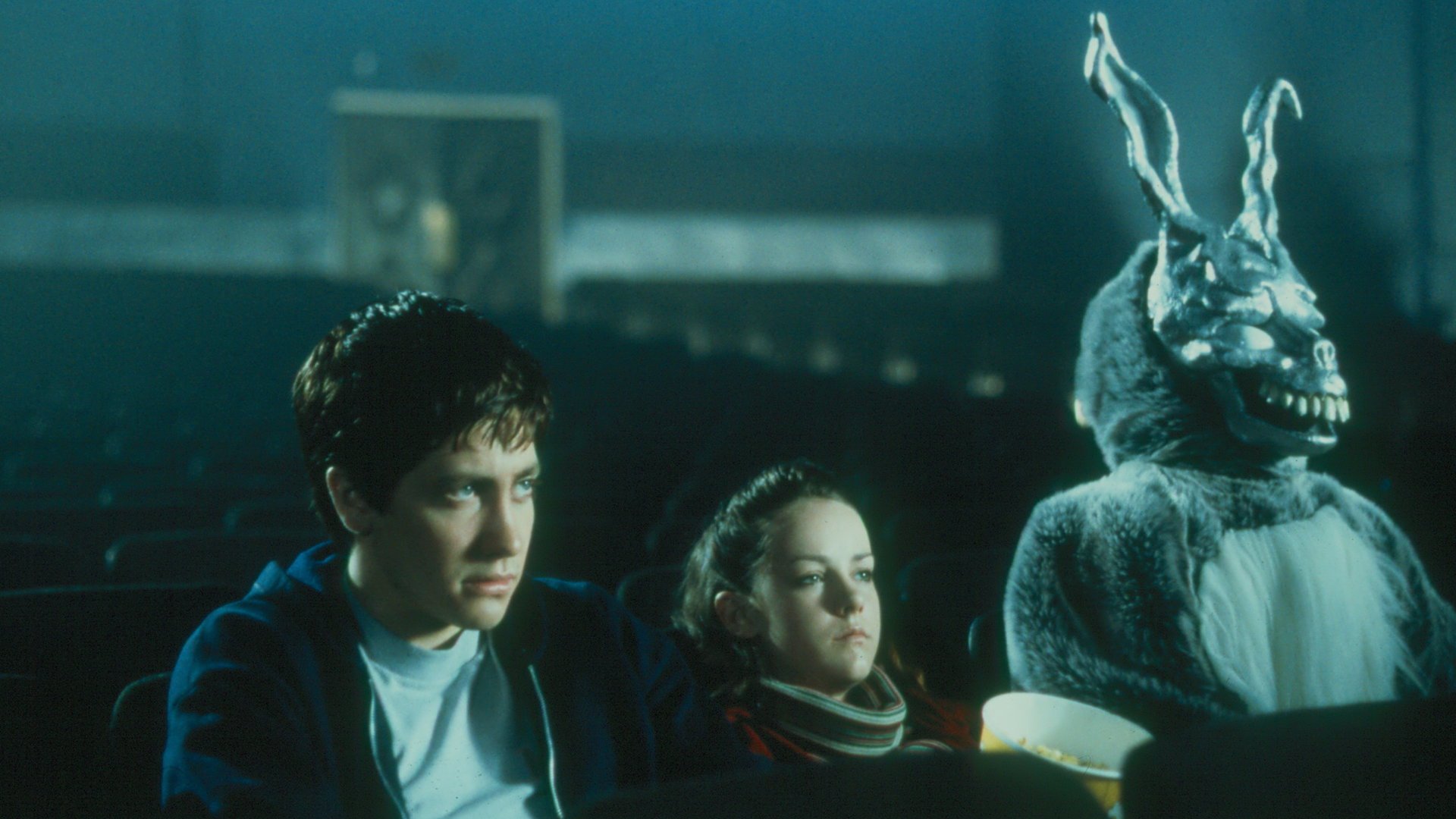 RECOMMENDED
"Sometimes I doubt your commitment to Sparkle Motion!" Sixteen years ago, then twenty-six-year-old writer-director Richard Kelly's obstinate "Donnie Darko" dropped into theaters.
It had been six weeks since 9/11 and response was cool to an ambiguous, time-warping 1988-set parable about teenage male alienation and that begins with a jet engine landing in a boy's bedroom. ("Donnie Darko" opened at fifty-eight theaters, grossing $110,494, or less than $2,000 per screen.) A message from a six-foot-tall, death-daring bunny rabbit about mortality arriving in "twenty-eight days, six hours, forty-two minutes and twelve seconds" was not the stuff of reassurance. (I saw it several times in theaters, each with a different friend of a different age who had their wowed reaction.)
The movie became more of a legend in later formats, including a dreadful-looking DVD release in 2004 that was accompanied by a director's cut that filled in more blanks than strictly necessary. It's a measure of the fragility of the very existence of recent independently made movies that a 4K digital restoration is necessary, but also a bold, bright thing on a big screen. (I previewed the Arrow Video Blu-ray, with mucho extras, on a fairly large flatscreen; it's also available now.)
There are so many elements that haunt memories of past viewings of the movie, not limited to the youthful earnestness of Jake Gyllenhaal, Jena Malone and even Drew Barrymore, and the gleeful cheesy evil of Patrick Swayze's bent evangelist character. The pre-medicated swings of Donnie's moods seethe in Gyllenhaal's intent performance, filled with glorious angst, as a teen terrorist who believes he may be a savior. "If John Hughes had tried to make 'Magnolia' after reading a lot of Philip K. Dick while very high, the result wouldn't have been one-tenth as good as 'Donnie Darko,'" I wrote on its first release.
With Mary McDonnell as his kind but wine-sated mom; Drew Barrymore as the well-meaning teacher who provides the moral justification for Donnie's nocturnal missions; and Jena Malone as the tiny young girl who wants to take him into her secrets if only his weren't so large. The music's big, too, branding the teen melancholia with the songs by Echo and the Bunnymen, Tears for Fears and Duran Duran and the movie branding the songs as well, a deep bruising shared swoon. The theatrical version is some kind of compacted masterpiece, hormonal, vital, dazed, blissfully unhinged. (As opposed to Kelly's viscerally unhinged 2006 "Southland Tales.") I'm too attached to "Donnie Darko" to worry over its wanton weirdness, its mix of concreteness and intangibility. 113m. The 134-minute director's cut will be shown Friday, April 21 only. (Ray Pride)
"Donnie Darko" opens Friday, April 21 at the Music Box.