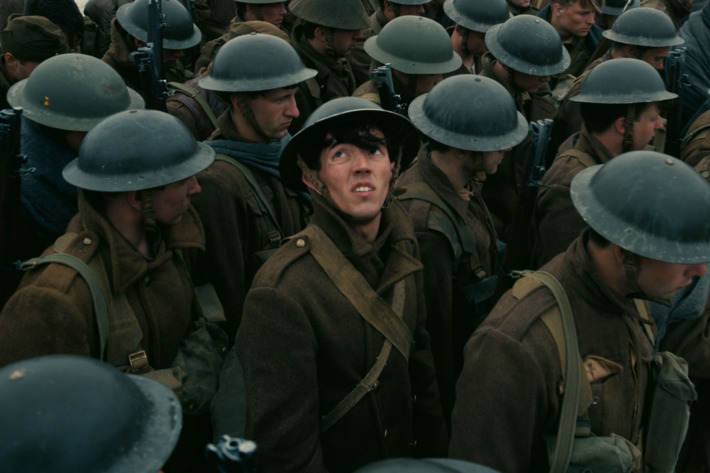 RECOMMENDED
Elegance of nightmare, essence of terror. We are catapulted to war, in three interleaving but sometimes indistinct timeframes: a week, a day, an hour. Time collapses. There is the presence of fright, the adrenalized now. The soldiers and volunteers in "Dunkirk" fear the unseen, the unspoken. Fear without a face. No politicos, no Jerrys. Menace assembles lavishly cheekboned and becurled men, epicene, nearly ephebic. The knitwear is epic, faultless, hyper-real, the camera knowing desire of texture of that wool that heightens the beauty of young skin. Their cheeks are smooth, clear of grime and hair. Not models, but a sea of faces that become a blur of a single type of face—not one man or another, but men, these men at war, the best of youth tossed into the tempest of war. This blur of beauty is idealized and horrible. Fear felt. All sensation from drench to scorch is fear-inducing, the mortal hug of the will to survive. Land, sea, endless sky, relentless fire, water, water, drowning water, submerging, subsuming, deadly, drowning water.
Bold blue, dessicated greens. There are four elements and three time schemes. Time is subjective for each set of characters, and yet they comprise the mission. Amid these warring elements, no single one comprehends what another one in capsized ship or soaring spitfire knows in galvanic tick-tock, tick-tock, tick-tock. All men are equal beneath barrage. And yet: breath. Take your breath with you, survive, you must survive: the fire will not take you, the sea will not take you. Breathe. That ticking? That is a heartbeat. That is time. That is all you shall have. Experiential or experimental? "Dunkirk" is arc and fury, geometric action within a watery field of battle, an amphitheater of limitless sky, a sensorium that language, spoken, written language need not enter. Christopher Nolan speaks of his joy in taking this tack: "Telling the story primarily pictorially and through sound and music rather than having people talk about who they are and where they're from—that was very attractive to me." 106m. (Ray Pride)
"Dunkirk" is now playing in six different formats and screen ratios, including widescreen 70mm and nearly square IMAX. Reviewed at the Music Box in 70mm. A guide to the differences here. Nolan's preferred 70mm IMAX version is not being shown in Chicago. Joe Wright's version of the beaches of Dunkirk in "Atonement" was a single, unbroken five-minute take. Historian James Holland is thrilled by "Dunkirk," but examines its variance from historical record here.