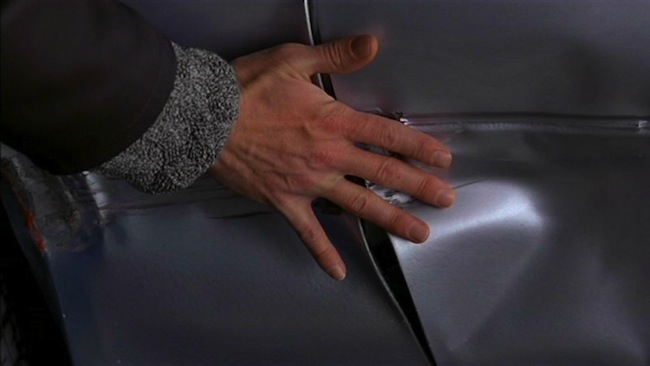 RECOMMENDED
David Cronenberg's serene, severe adaptation of J. G. Ballard's 1973 novel is about a batch of people who share a fetish no one in the known world has (we'll presume): sexual congress induced or augmented by the threat of shred or death in moving motor vehicles. Sensation fills most of his frames. The mood  is heightened as foreplay—touch, tactile—not only in a culmination of sex, but the way characters strain toward each other. "The whole movie is foreplay leading to the final scene," Cronenberg told me at the time of its release. "Even Vaughan tracking Catherine with his car and touching her, nudging her car with his car is, in the context of the movie, even more intimate, really, than physically touching her. It's a real violation of the marriage." A series of sex scenes is not a plot, at least one reviewer chided the Canadian master at the time. "A journalist said that the scariest thing about the movie was the lack of a moral stance. That was, I felt, very indicative of what one expects from a Hollywood movie, but not necessarily what one expects from art. It was like a plot device that was demanded had been excluded and he was outraged! 'Well, I'm glad you noticed,' I said, but it's really the subject of the film. There is no moral stance that you can take. That is the subject of the film.
David Cronenberg: I would like to make the case for the crime of art /via @globeandmail https://t.co/LLf2xxcFvL

— Ray Pride (@RayPride) July 10, 2018
"And if I impose my own artificial standards, then I'm completely spoiling my experiment, which is to let these creatures have their head and try to reinvent all of these things they're trying to reinvent. And I think that's the situation we really all are in as humans. That's the existential contract that we signed on birth, which we later look at and say, 'I can't believe I signed that!' That's all these people are doing. They say, 'OK, reality, meaning, morality, all of these things are our responsibility to invent and to force ourselves to believe in.' And if we don't? They aren't there." With James Spader, Holly Hunter, Rosanna Arquette, Elias Koteas, Deborah Kara Unger. 100m. (Ray Pride)
"Crash" plays Siskel in 35mm on June 22 and 25.