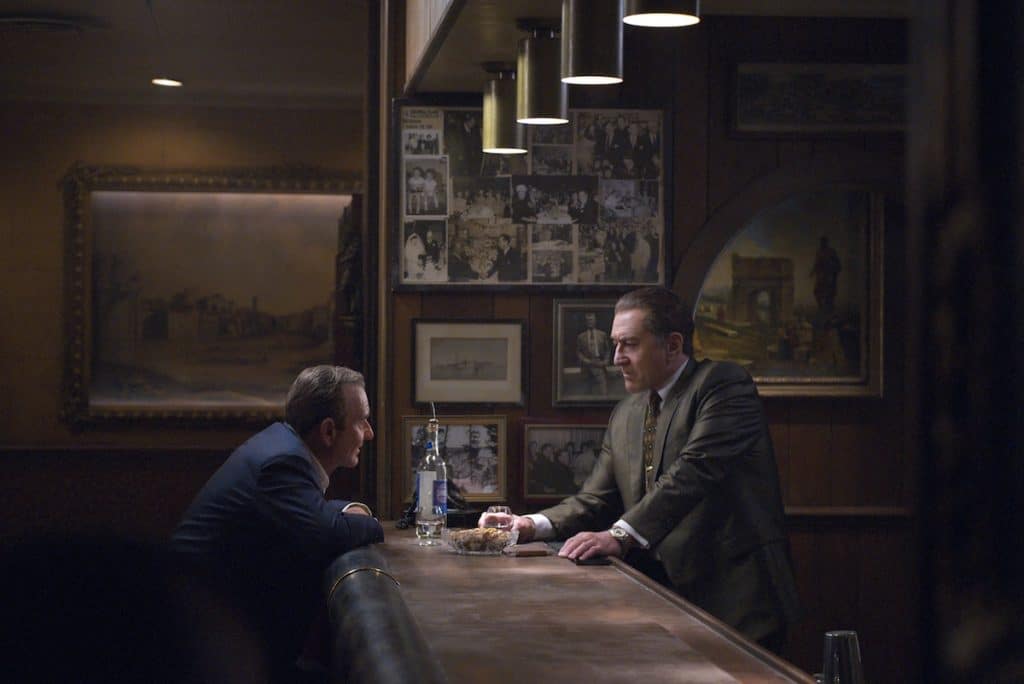 RECOMMENDED
A sadder and bedraggled "Mikey and Nicky"—why so existential?—Martin Scorsese's sweeping and crushing "The Irishman" sketches across decades what Elaine May's 1976 masterpiece expends in a single night. Both stun. Men facing frightful fate, as well as themselves: these are serene, killing horrors, an autumnal apotheosis that ends with a shot of simple, elegant geometry: a stairway to heaven our antiquated antihero may not require.
As with "Last Temptation of Christ" and "Silence," "The Irishman" simmered for years on Scorsese's back burner. Time has deepened the work. Based on an unreliable "memoir" of hitman Frank Sheeran (Robert De Niro), "I Heard You Paint Houses"—front and end title cards insist that this remains the title of the picture—"The Irishman" bites down on the middle of the American century, but with a narrative from the perspective of reserved, paranoiac killers. Sheeran claims to have murdered still-missing Teamsters president Jimmy Hoffa, which opens the door wide to incidents around the 1960 election and Joseph Kennedy's crimes and the Bay of Pigs and the 1963 assassination of John F. Kennedy. History, as it is narrated to us, is received wisdom and gossip viewed through a conspiratorial kaleidoscope. Sheeran's stories are plucked from the fog of eighty-three years of memories. We live in the head of an unreliable narrator for three hours and twenty-nine minutes. It is majestic, these tectonic plates of gestures small and large, grinding, grinding slowly, and watch out, it is also an untenable wall of bricks that is poised to fall, and hard. ("Water under the dam" is the screenplay's malapropism of choice.)
"The Irishman" lavishes the leisurely tempo and generous duration of epics like Luchino Visconti's "The Leopard." In that melancholy death-of-an-era tapestry, Burt Lancaster's Sicilian aristocrat muses on marriage: "A year of fire and forty years of ashes!" As Scorsese's blunt, shadow-steeped, vigorously funny movie moves toward its final hour, similar sensations are felt: Jesus, these young men, these cruel, cold men were living the life, their life, but deaths pile up and one day the most powerful man of them all is sitting in a prison cafeteria sipping a gift: "This is the good grape juice."
Much has been advertised of the fortune that Netflix spent on the budget of "The Irishman," which includes tens of millions of dollars of digital effects that transform the actors into younger versions of themselves. There's little of the "uncanny valley" perplex: a few scenes into the stylization, the performances—the actors—take over. De Niro gives a lifetime performance performing a long, long lifetime; Al Pacino's Jimmy Hoffa is a white-socked force of hyper, ill nature; and long-absent Joe Pesci, as Pennsylvania crime boss Russell Bufalino, etches menace with the stillest gesture, the least motion, and sometimes, stillness, period. (Anna Paquin's near-silent role, as Sheeran's daughter, is as brutal in its own way.) Time is also tracked by Sandy Powell's emphatically brilliant costume design that delights down to its last dime: De Niro alone has a reported 120 changes of clothing.
In an early scene, a character is introduced in a slash of a shot, the camera capturing in an instant in a slaughterhouse the slitting of a chicken's throat with a straight razor. Blood jets and lashes. Brief as a photograph: indelible as a memory. And indicative of the brutal suddenness of the hits to come: a friend walks up to you, a friend walks away from you, in the middle, that friend has put two bullets in the back of you.
"The Irishman" makes exceptional use of the canvas of the big screen, but sound matters, too: while exceptionally specific throughout with a damped version of "realistic" sound design, there are passages of silence that won't be as powerful in the compressed aural quality of streaming. But the plethora of obscenities—"You motherfucker!"; "That fucking cocksucker Kennedy"—the plethora of obscenities shall abide. With Ray Romano, Bobby Cannavale, Stephen Graham, Jesse Plemons, Harvey Keitel, Kathrine Narducci, Welker White, Steven Van Zandt, Bo Dietl, Barry Primus, Jack Huston. Widescreen. 209m. (Ray Pride)
"The Irishman" is playing at Landmark Century, Renaissance Highland Park and the Pickwick in Park Ridge and on Netflix beginning November 27.