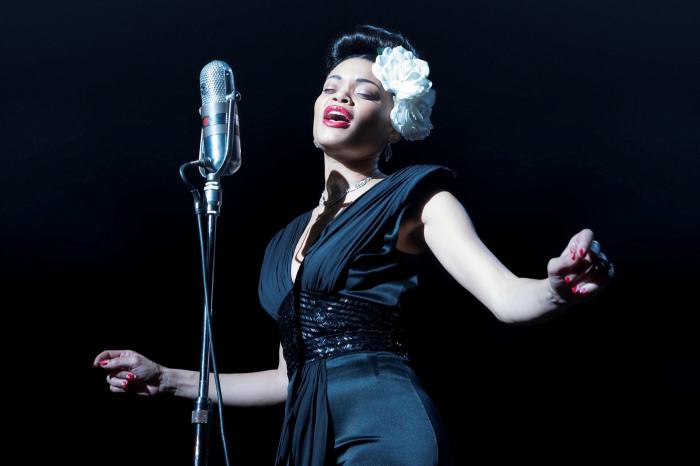 OPENERS
"The United States vs. Billie Holiday," which director Lee Daniels describes as the first movie he's directed sober, is an intent, starry showcase for Grammy Award-nominated Andra Day. There are fewer of the gloriously inexplicable touches and much less of the giddy bursts of vulgarity of earlier work like "Precious" and the "Paperboy" (or even "Empire"), although there are sharp shocks. Is the middle-aged producer-auteur leaning into respectability after his still-eccentric 2013 "Lee Daniels' The Butler," which grossed $177 million theatrically worldwide? Suzan-Lori Parks' screenplay provides ample room for the unabashedly emotional in its snapshot of the persecution and prosecution of Lady Day in a turbulent passage of her life. Daniels says the story of the government going after her for her politics is eternal; "I was taught by my mother to respect white people, to be nice and courteous: keep your head low down," Daniels told the Financial Times as he started to promote his picture. "It's deeply ingrained in the fabric of America, because racism is what America is about. In the past, I've chosen to ignore that, but now, I'm really looking at it straight in the eye and stopping being embarrassed about talking the truth." Hulu, starting February 26.
Another time, another Billie: Apple TV Plus debuts veteran documentarian R. J. Cutler's latest performer piece, after his "Belushi" in November for Showtime, with the 140-minutes-with-intermission Billie Eilish: The World's A Little Blurry," February 26 in theaters and worldwide streaming.
CHICAGO SEEN
The Music Box reopens for public screenings this Friday, limiting the 750-seat big house to fifty ticketholders. (The smaller room, available only for rentals, is limited to fifteen of its seventy seats.) New films as well as classics will be shown each Friday, Saturday and Sunday while a menu of debut streaming options continue at Music Box Direct. The curbside concessions pickup service, Music Box To-Go, continues on Fridays and Saturdays. (This weekend's special includes collaboration with Half Acre Beer.) Tickets must be purchased online in advance. Masks, distancing and other precautions prevail throughout the Southport barn.
The Film Center's "Talking Pictures" lecture series returns, this week showcasing the first of "Sayles on Sayles," an exclusive five-film selection with affable, wry writer-director John Sayles himself offering signposts to post-Altman civic mosaic "City of Hope" (1991). Sayles again demonstrates his intent focus on community. "In 'City of Hope,' we showed how it was difficult for people to avoid each other in an Eastern urban city. Their lives intertwined whether they wanted them to or not. 'City of Hope' is like a snapshot," Sayles told me in an interview around that time. Film Center, March 1.
HELD OVER
"Barb and Star Go To Vista Del Mar" feels at once both a willed cult object and a genuine parcel of wacky glee. (Wacky glee wins the day.) Screenwriter-stars Kristen Wiig and Annie Mumolo ("Bridesmaids") work for and sustain the inspired boneheadedness of movies like "Airplane!" and "Top Secret!." Premium video-on-demand.
My friend Adam Curtis has made this trail for his imminent new series 'Can't Get You Out of My Head: An Emotional History of the Modern World.' The trail is exclusive to this tweet and will exist nowhere else! I love the series and its wild range of stories. pic.twitter.com/jCe8FqM8H6

— jon ronson (@jonronson) January 24, 2021
Adam Curtis' movies can't be broadcast outside of Great Britain. Produced under the clip and music licensing exceptions of the BBC, the clearances alone for his latest, "Can't Get You Out Of My Head," a six-part eight-hour "series of films" would balloon the budgets of his work from the tens of thousands into the millions. With projects like "HyperNormalisation," (2016), Curtis' essay-assays of archival footage, music choices that are as apropos as a laser is fine, and his own genially sinister voiceover have been beneficiaries of the lax enforcement of copyright and other rules by YouTube and other sites. Quibble with the larger arcs of Curtis' "emotional history" of how radical movements were absorbed since World War II into the muffling swaddle of minute-to-minute, wall-to-wall consumer culture, but you must admire the instant-to-instant craft, the practiced eye and ear for absurdity and the mind for suggestive, even haunting juxtaposition. Artful, dreamy and lyrical, Curtis' impressionistic tapestries drape seductively. You can find it.
HARD COPY
"Everything has changed—the cinema and the importance it holds in our culture," Martin Scorsese writes in his cover essay of the March issue of Harper's. "Of course, it's hardly surprising that artists such as Godard, Bergman, Kubrick, and Fellini, who once reigned over our great art form like gods, would eventually recede into the shadows with the passing of time."
Scorsese's headlined subject is Fellini on the occasion of his centenary (like the immense, fifteen-disk Criterion doorstopper), but he courses across the history of movies and their possible future, too. "At this point, we can't take anything for granted. We can't depend on the movie business, such as it is, to take care of cinema. In the movie business, which is now the mass visual entertainment business, the emphasis is always on the word 'business,' and value is always determined by the amount of money to be made from any given property—in that sense, everything from 'Sunrise' to 'La Strada' to '2001' is now pretty much wrung dry… Those of us who know the cinema and its history have to share our love and our knowledge with as many people as possible. And we have to make it crystal clear to the current legal owners of these films that they amount to much, much more than mere property to be exploited and then locked away. They are among the greatest treasures of our culture, and they must be treated accordingly."
As he prepares his twenty-sixth theatrical feature, the $200-million-plus adaptation of David Grann's 2016 nonfiction "Killers of the Flower Moon" for Apple, Scorsese contends with "content": "As recently as fifteen years ago, the term 'content' was heard only when people were discussing the cinema on a serious level, and it was contrasted with and measured against 'form.' Then, gradually, it was used more and more by the people who took over media companies, most of whom knew nothing about the history of the art form, or even cared enough to think that they should. 'Content' became a business term for all moving images."
This, Scorsese writes, "was linked, of course, not to the theatrical experience but to home viewing, on the streaming platforms that have come to overtake the moviegoing experience, just as Amazon overtook physical stores… It has created a situation in which everything is presented to the viewer on a level playing field, which sounds democratic but isn't. If further viewing is 'suggested' by algorithms based on what you've already seen, and the suggestions are based only on subject matter or genre, then what does that do to the art of cinema?"
The lifelong cinephile and longtime preservationist raises his voice for curation as caution if not cure: "Algorithms, by definition, are based on calculations that treat the viewer as a consumer and nothing else… Curating isn't undemocratic or 'elitist,' a term that is now used so often that it's become meaningless. It's an act of generosity—you're sharing what you love and what has inspired you. (The best streaming platforms, such as the Criterion Channel and MUBI and traditional outlets such as TCM, are based on curating—they're actually curated.)" Harper's, March 2021.
Ray Pride is Newcity's film critic and a contributing editor to Filmmaker magazine.
His multimedia history of Chicago "Ghost Signs" will be published soon. Previews of the project are on Twitter and on Instagram as Ghost Signs Chicago. More photography on Instagram.