Talking Screens: A Week In Chicago Film, April 2-8, 2021
As is the case more and more, each and every week, there are more and more movies, but also more moviehouses reopening in anticipation, or hope, of healthier times. Nonfiction jewel of the Midwest, the True/False Film Fest, moves its Columbia, Missouri showings to the great outdoors, but fashions a "Teleported Fest" with virtual showings and regional swag for "attendees." Oscar-nominated shorts are the quiet jewels of awards season and get their annual airing, while Michelle Pfeiffer is the multifaceted diamond of Azazel Jacobs' comedy of class and reincarnation, "French Exit." Kartemquin member Judy Hoffman's little-seen 2002 Britney Spears documentary, "Stages: Three Days in Mexico" (shot by "Gimme Shelter"'s Albert Maysles) gets an interactive outing on Facebook and Twitch this week, and Siskel Film Center's latest "Talking Pictures" lecture series features Sergio Mims on "Images of the Black Male In American Cinema," starting with "Birth of a Nation." Stylish "Gattaca" and joyously bloody "Raw" get spiffy Blu-ray editions (while available on multiple streaming services). Director Andrew Niccol tells Ray Pride about the "arrogance" of his design choices for "Gattaca" while "Raw" prompts a notion from Roland Barthes' "A Lover's Discourse."
The Music Box Theatre has expanded its screening roster to seven days a week, retaining precautions including a maximum capacity of fifty in the big house, and mask requirements at all times when patrons are not seated and eating or drinking. Virtual screenings continue, as via Siskel and Facets. Multiplexes around town offer staggered showtimes and private rentals.
Columbia, Missouri's nonfiction True/False Film Fest moves outdoors for post-dusk screenings this year—its customary late February-early March weeks passed—expanding on its goings-on as a "Midsummer Night's Dream" fairyland of the giddy, the goofy, and the granularly great, onscreen and off, to a literal forest, with musical attractions, conversations and art exhibitions across the town during the day, until the lights, or in 2021, the sun goes down on Stephens Lake Park. A virtual version, The Teleported Fest, will show about half the films from the Columbia roster along with other attractions for $200-$695: "The Teleported Fest brings the soul of True/False into your home with a five-day, hyper-curated interactive film experience. Be the first in the world to view new films as you sip and snack on a selection of locally sourced treats, lounge in festival merch and engage with films in new and unexpected ways. While the Teleported Fest is primarily geared towards out-of-towners (since we know travel is inadvisable during a pandemic), all are welcome to apply." Here's the complete list of films. True/False Film Fest, Columbia, Missouri, May 5-9.
OPENERS

Oscar-nominated shorts rear their compact little heads for the sixteenth year, with the Live Action and Documentary rosters streaming via Music Box Direct in anticipation of the April 25 ninety-third Academy Awards, co-produced by promising newcomer Steven Soderbergh. Norwegian doc short "Do Not Split," by Anders Hammer, captures the street intensity of 2019's Hong Kong pro-democracy and anti-extradition law demonstrations in vivid fashion, offending the China government; mentions of the film reportedly must be deleted on order of the Propaganda Department of the CCP and the Oscar broadcast will be time-delayed. Landmark will present the Animated and Live Action Short Films; link starting Friday, April 2. Link via Music Box, starting Friday, April 2: Live Action Short Films; Documentary Short Films.
Azazel Jacobs' "French Exit" displays the for-too-long-shrouded talents of the stern and steely Michelle Pfeiffer in louche and luxurious glory: she plays a harried woman who falls suddenly and clumsily from wealth, but not a harridan, and when she's brittle, you snap. Jacobs' most recent feature, the little-seen "The Lovers" (2017) displayed a knack for genial quirk and an ongoing love for eccentrics that he refuses to judge: he's good with the elegant weirdos of "French Exit," too. It's not an Oscar movie, but it's filled with the manner of peculiar and piquant delights you'd expect from the director of "The GoodTimesKid" (2005). With Lucas Hedges, Imogen Poots, Tracy Letts and a special black cat called "Little Frank." In theaters, starting Friday, April 2.
CHICAGO SEEN
Twenty years ago, legendary Kartemquin collective member and University of Chicago film professor Judy Hoffman, with the late Al Maysles as cameraman, made an "unusual and poignant" documentary about Britney Spears, Kartemquin's Tim Horsburgh tweeted last week about the not-quite-lost feature-length artifact. Vanity Fair calls it "The Shockingly Melancholy Britney Spears Documentary You've Never Heard Of," the vérité doc "Stages: Three Days in Mexico," filmed during the final stop of Spears' "Dream Within a Dream" 2002 World Tour, featuring, writes Jennifer Swann, "of unconventional close-ups, abrupt fade-outs, and excruciatingly long [takes], lingering on the lonely, mundane moments before and after Spears performs for more than 50,000 people each night." "Stages" will stream with a dialogue with Hoffman; watch via Facebook, or Twitch to join the discussion during the screening. Thursday, April 8, 7pm.
The Siskel Film Center starts a new series of its "Talking Pictures" lecture series with "Images of the Black Male In American Cinema," led by historian and Black Harvest Film Festival co-programmer and co-founder Sergio Mims. Features include Oscar Micheaux's 1932 "The Girl From Chicago"; "Cabin in the Sky"; "No Way Out"; "In The Heat of the Night"; "Superfly" and Regina King's 2o21 Oscar contender, "One Night in Miami…"; teeing off April 5 with D. W. Griffith's "Birth of a Nation." Siskel, Mondays, April 5-May 31, at 6pm each week.
SHELF REGARD
The debut feature by conceptually conniving storyteller Andrew Niccol (screenwriter of "The Truman Show") is the type of $18 million film investment of ambition and craft that American studios still parked on their release schedules in 1997. In the context of what's left of theatrical-scaled moviemaking, the futuristic world of "Gattaca," a rigidly formal, deliciously piss-elegant parable about an implausible hope to perfect human biology is a boldly envisioned marvel on every level.
The look Niccol contrived after a decade of shooting commercials is constructed with fetish pieces that celebrate the industrial designer as the great artist of the twentieth century—Studebaker Avantis, Barcelona chairs, hats blocked just so; Jude Law/Ethan Hawke, Gore Vidal/Ernest Borgnine—is just… otherworldly. "It was arrogance on [production designer Jan Roelfs'] and my part to decide what belonged in the future," Niccol told me at the time. "The challenge of science fiction is deciding, what is the phone in the future, are there phones in the future? You could build it yourself, but I'm actually glad I didn't have a lot of money. There's a scene where the broker of identities walks into the apartment and he's meeting Vincent for the first time. In the script, he was going to come in with the beautiful streamlined computer tablet that had a list of all his applicants but I couldn't afford to do it. Someone said, 'Why don't you just use a Newton?' and I said, 'No, I will not!' It forced us to come up with a different solution, which was vials of blood in this billfold, which is far more visceral, more poetic. Some directors are not open to accidents. But I think I like them!" Sony posted the opening ten minutes on YouTube here. "Gattaca," 4K Ultra HD, Blu-ray and digital. Rental on some services, included with Amazon Prime.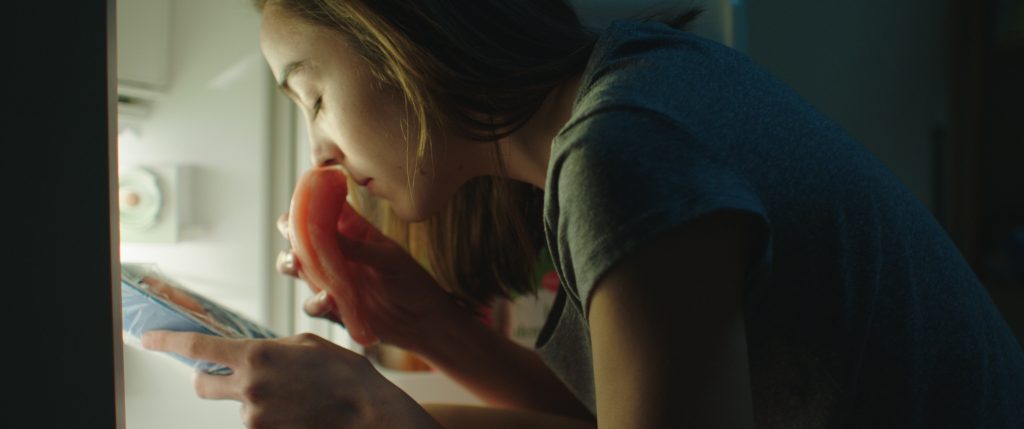 "Raw"
Arriving on Blu-ray, "Raw" (2017) is bloody good, a gorgeously measured, viscous, rubicund, pulsating female body horror debut feature from French writer-director Julia Ducournau. Comparisons are heady but unnecessary: her idea-rich feral fable taxonomizes its own distinctly female language. It's coming-of-age time with dark variations in the bloodline and the bloodstream: 16-year-old Justine (Garance Marillier) leaves a resolutely vegetarian household to join her older sister Alexia (Ella Rumpf) at veterinary college that both her parents attended. Accept the premise: the rabbit hole opens with velocity. Secrets, and the failure of others to be open, lead to further carnal catastrophe, other stains in the blood. Silken metaphors and fierce sexual passion jolt Justine's journey. Dancing by herself before a mirror to a rap song with a woman singing, "Wedding night, I'll drown you in my pool," she immolates herself in lipstick and lips and smeared lipstick, self-love, self-admiration, self-cannibalizing. Justine discovers herself. And what she wants. And once she's drunk, she will have it. She will have you, brave and foolhardy, riding her wellspring of insatiable physical desire. "I call intoxication of the mind that state in which pleasure exceeds the possibilities which desire had entertained," Roland Barthes cites in "A Lover's Discourse," and it's suitable to describe where desire takes Justine. "Raw"'s errant psychology is apt, acts and reactions escalate with finely-stitched logic, and, as in the best work of David Cronenberg, we simultaneously witness ruin and flowering transformation. Shout Factory Blu-ray; $4 rental at providers including Apple TV, Amazon, iTunes, YouTube.