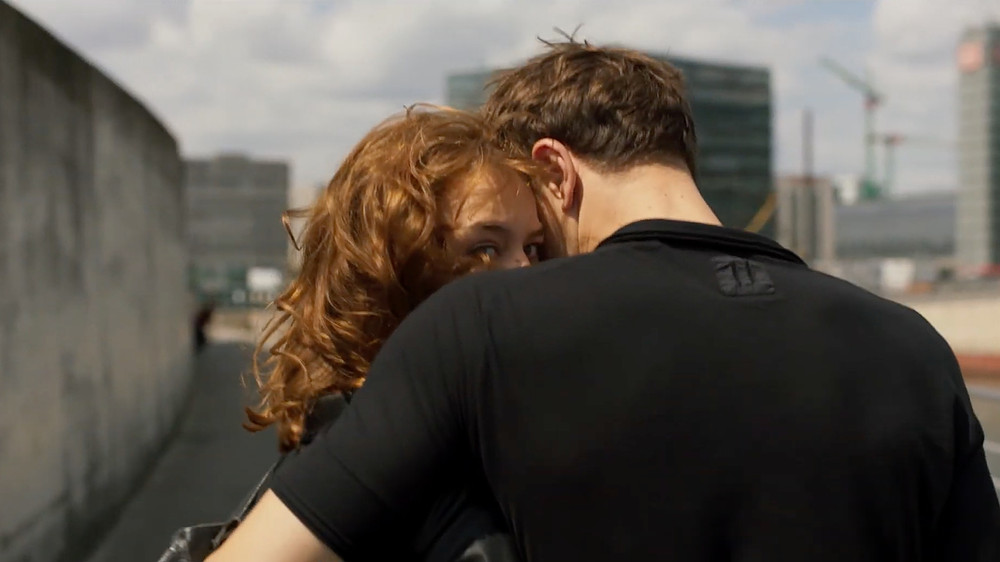 Christian Petzold is one of a nearly lost tribe: European filmmakers with a signature both specific and elusive who were once counted on to deliver films every year or two that fit both the marketplace and their own recognizable concerns.
Filmmakers such as Almodóvar, Bergman and Chabrol and Varda had runs like that, as have, in briefer spans, filmmakers like Wenders and Herzog and many others we could name. These European authors (not "auteurs") were supported by financing schemes within their own countries, from European broadcasting entities and larger European Union cultural and economic initiatives. Plus, they had stories to tell, and lyricism would leak through, just because specificity in personal observation will almost always suggest universality without having to lean upon stark proclamations or brutally obvious themes.
European directors continue the struggle to capture the modern world as it enfolds us. Christian Petzold has had at least one book written about his work, and it's almost a decade old. The American art-house profile of the sixty-year-old German writer-director has only grown since then: in 2000, when his first feature was released, "The State I Am In," he didn't necessarily seem like he would first nestle, then burrow into his role as a poet of unease, a painter of the so-specific and yet-so-elusive. His movies, fourteen of them—nine theatrical releases and five that originated on television— transfix beyond his elemental way with plot and metaphor. His cool complexity suggests a familiar world with ease as simple as breath. "Transit" (2018), for instance, is both trick and fugue: familiar cinematic worlds, even the eras the characters move through, become unmoored (yet ever-tactile) with the oneiric ease that only moving pictures can provide.
Petzold's mentors at the German Film and Television Academy Berlin (dffb) included non-narrative filmmakers like Hartmut Bitomsky and Harun Farocki, who became a collaborator across many years. Petzold's cool precision as a director of design—architectural, spatial, emotional—partakes of non-narrative glimpses that define the states of his characters, who are at once levers of his narrative conceits, but also characters unwittingly pinned to the screen.
In each successive feature in a filmography that includes "Jerichow" (2008); "Barbara" (2012); "Phoenix" (2014) and "Transit," (2018), Petzold has grown into the role of a master of the cumulative power of elegant drama—the layers of fantasy these characters create for themselves are epic but tangible—but also of the smashing payoff. Petzold, a director of quietly dynamic frames, warms and tends to story and his actors in a cumulatively devastating way. At the time of "Barbara," Petzold wrote, "We wanted to capture on film that specific space between people, with everything that has built up, everything that had made them so mistrustful, everything they trust, reject and accept."
He cited Fassbinder's 1972 "Merchant of Four Seasons" as iconic for him, in terms of how all these formal concerns would coincide with the historical forces at play in his own work in each of his features. "The East Germany of the fifties is so present in [Fassbinder's] film: in the split rear window of a VW Bully, in the echoing emptiness of a bare backyard, in the cramped confines of a Formica kitchen," Petzold said in reflection. "It's never a backdrop, but more of a spatial experience where people love, argue and become silent. And this atmosphere thick with loving, arguing, and silence just sticks to everything and remains hanging in the air and on the walls. The past never passes but extends far into our present. We wanted to capture on film that specific space between people, with everything that has built up, everything that had made them so mistrustful, everything they trust, reject and accept."
That's a lot to expect from cinema, especially to be conveyed in such transparent, even effortless fashion. His actors, especially Nina Hoss ("Jerichow," "Yella," "Barbara," "Phoenix") are quietly stellar, gems set within formidably apt settings. Petzold's images are hushed, interiors and compositions in painterly geometry that holds beauty that gratifies the eyes but becomes disturbingly clinical in accumulation. The real becomes spectral before these backdrops and in these spaces. Big doings are conveyed in simple gestures and images.
Petzold hinted at the time "Transit" was released that his current fixation would be "a new trilogy about German romantic subjects of the nineteenth century, which still works today. The first is about water, next will be about fire, and the third is about earth." His latest film, "Undine" (2020) is water, and it's also fire. Petzold remains an anatomist of the unsettling, the unbearable, the human heartbeat. Water is constant in his work—the windswept seaside of "The State I Am In," the pools in "Something To Remind Me," the stern waters of "Yella"—translucent or opaque; battering or still—and "Undine" dives into watery myth that dates back to the Greeks, although in a modern setting: Berlin, a city of vast historical currents, built upon a swamp. Undine (Paula Beer) is a historian of urban development whose cool is broken by a man's betrayal. Petzold blurs the worlds: how much is real? Is Undine really a water nymph? How true is the myth that draws her toward water, toward the lake in the forest of legend? Can she avoid falling into the echoes of Hitchcock's "Vertigo"? Could another man, an industrial diver working on Berlin's redevelopment, show her how to let go of love betrayed? What does the detonation of that colossal fish tank in a café-bar augur for a man and a woman who've only just met?
"The myths and fairytales, men's myths, leave Undine a pitiful dearth of leeway," Petzold says of Undine's state. "Undine is a woman who needs to escape the work of male projection. I've always been interested in the people born a hundred years too soon who stand for something that hasn't yet had its day." Once more, the politics lie quietly under the practical devices of narrative. He says almost offhandedly, "Maybe Undine is also one such character who criticizes her curse too soon and is forced to fight."
Still, Petzold sups at illogic and the simply unpredictable: love, myth, city, dream, water, longing. "I wanted to make a film in which you see how love develops and remains," Petzold says of his modern urban fairytale but does not let go of the weight of his other features, where the naturalistic settings and simmering performances and narrative underpinnings rest on historical foundation. "There's no such thing as an unpolitical story," Petzold assures. "The political always slips into the narrative." Still, these are lovely dreamers, pinned to ninety minutes of striated story and hyperreal images but always anxious to rise, to float, to float away into ethereal beauty.
"Undine" opens in theaters Friday, June 4, as well as on demand.
Ray Pride is Newcity's film critic and a contributing editor to Filmmaker magazine.
His multimedia history of Chicago "Ghost Signs" will be published soon. Previews of the project are on Twitter and on Instagram as Ghost Signs Chicago. More photography on Instagram.