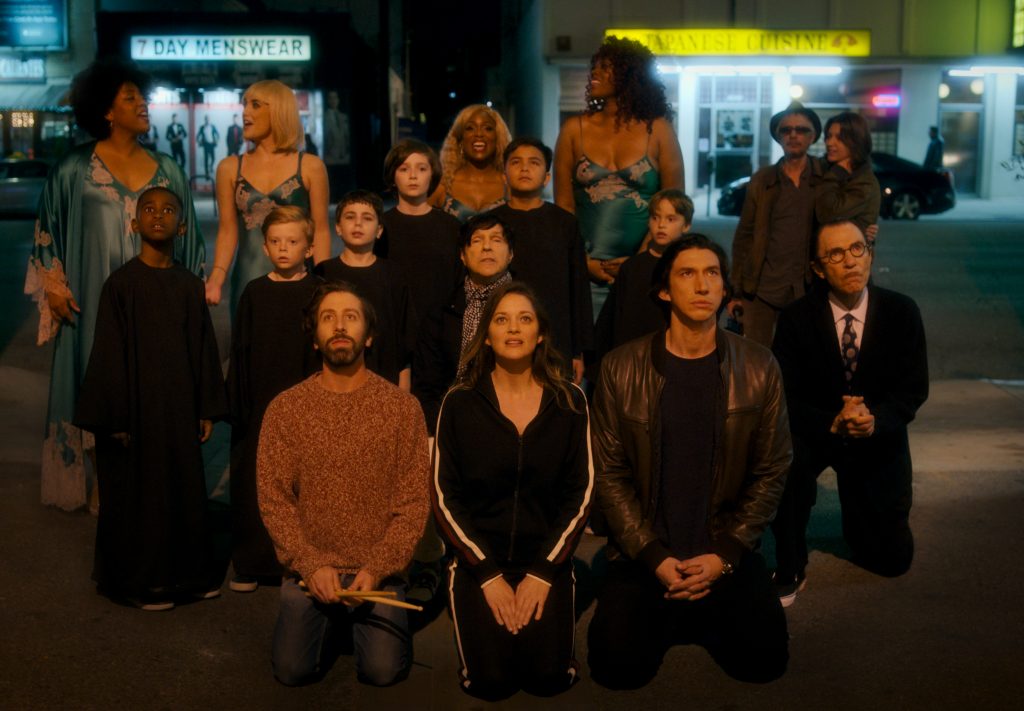 The cast, Sparks and director Leos Carax in opening number of "Annette"The Siskel Film Center reopens on Friday, August 6, with screenings of Leos Carax's musical bruised bruiser "Annette" and a retrospective of films by Federico Fellini, a program of restorations for the twentieth-century Italian master's century, one year late. (Fellini's 1952 "The White Sheik" plays August 7 and 10. The week's biggest-budgeted opener is James Gunn's return to filmmaking, DC and Warner Bros. "Suicide Squad," in theaters and on HBO Max. Following the success of Sony Pictures Animation's streaming debut, "The Mitchells Vs. The Machines," a further SPA production, "Vivo," debuts on Netflix on August 6: "Vivo, a musically gifted kinkajou, or a rainforest honey bear, embarks on the adventure of a lifetime to deliver a song to his cherished owner's long-lost love." (Featuring the voices of Zoe Saldaña; "Michael Rooker as a villainous Everglades python and Brian Tyree Henry and Nicole Byer as a pair of star-crossed spoonbills.") "The Green Knight" continues in theaters, beatifying and beautifying fourteenth-century lore and pageantry. Controversy follows "Pig" and "Stillwater."
OPENERS
French filmmaker Leos Carax's sixth feature, "Annette," is a savage beast caught between heartbeat and howl. As with his earlier movies, like "Holy Motors" (2012), the canvas is strewn with moments of great emotion and flecked with instants of sublime cinematic beauty, image and sound alike. There's no posturing here; Carax is one of modern cinema's darkest romantics, love unto death and maybe beyond. While based on a story and songs by Sparks, with lyrics co-written by Carax and Sparks, "Annette" is both muscular personal statement about what appear to be hopeless-to-resolve feelings but also unobliging mystery about desire, repulsion and anger. Henry McHenry (Adam Driver) is a performance artist who presents himself as a not-unfamiliar god's-angry-man style of comic, performing as "The Ape of God." He stubs out bananas in backstage ashtrays and hulks, simian-style, wearing only a loose bathrobe onstage. ("Deep-seated feelings of hatred and humiliations we all seem to be sharing" is one of the definitions of his humor he offers to his eager patrons.) Ann (Marion Cotillard) is a gentle, world-renowned soprano who specializes in dying onstage. Henry likes to point out that his aim is to "kill" onstage. "Annette" is a baroque, sung-through rock opera: of course this fame-tainted, striking and very mismatched pair find each other, unlikely love, a strange daughter (Annette), and the proximity of death in a modern-day Los Angeles. It's a Los Angeles that readily accommodates the iconography, fixations and late-night motorcycle rides of Carax's other work. A line from the opening song—"The budget is large but it'd not enough"—sets a shrugging tone that alternates with bittersweet delirium. Those who like Carax's earlier films, including 2012's "Holy Motors" and "Les amants du Pont-Neuf" (1991), and the precocious first features "Boy Meets Girl" (1984) and "Mauvais Sang" (1986) will find the quiet, quicksilver raptures he's so very good at. "A tale of songs and fury, with no taboo," the opening number promises. "We'll sing and die for you, yes, in minor keys, and if you want us to kill, too, we may agree." There's a wrenching amount of self-loathing and rage from the Ape, and the comedy is presented as ritual, beautifully indicated but not funny at all, such as where he tells the crowd when to laugh: "Okay, laugh" and a spectral green penumbra of light sways side-to-side across his audience, who are in black-and-white, speaking "Ha-ha-ha"; it is silent-movie stuff, sure, but transfixing on its own. (Carax transfixes even when he doesn't fully transform.) The call-and-response routines degenerate with Brechtian elan: his repeated "What's your fucking problem" alternates with the group "Get off, get off the stage." Despite momentary friskiness in a scene featuring Driver's cry of "tickling time" and which includes Henry and Ann in feats of cunnilingus and toe-tonguing during a song, "Annette" is marked by utter seriousness. While the screenplay is credited to Ron and Russell Mael, the anguish is painful and personal, there are times that looking away, while genteel, is recurrent temptation. "You make films for dead people, but you show them to the living," Carax once said. Opens Friday, August 6 at the reopened Siskel Film Center and at Landmark Century.
"Suicide Squad" opens in IMAX in the towns and cities that have IMAX screens, as well as HBO Max for thirty-one days, and theaters as well. "Guardians of the Galaxy" writer-director James Gunn's return to filmmaking after a brief hiatus from Disney-Marvel over untoward tweets is 132 minutes of R-rated mayhem—and dare we presume Troma-style gross-outs after the studio where he got his start?—with time for "degenerate delinquents" Margot Robbie, Idris Elba, John Cena, Joel Kinnaman, Jai Courtney, Peter Capaldi, David Dastmalchian, Daniela Melchior, Michael Rooker, Alice Braga, Pete Davidson, JoaquÍn CosÍo, Juan Diego Botto, Storm Reid, Nathan Fillion, Steve Agee, Sean Gunn, Mayling Ng, Flula Borg, Jennifer Holland, Tinashe Kajese, Sylvester Stallone and Viola Davis. Theaters and HBO Max.
HOLDOVERS
"The Green Knight," David Lowery's wild, free adaptation of "Sir Gawain and the Green Knight," by the anonymous fourteenth-century poet, puzzles and mesmerizes in equal measure. Its play with all things Arthurian is meditation and provocation, especially arriving on nearly 2,800 American screens. Our Gawain (Dev Patel) is a wide-eyed, full-bearded, bearish-haired young man who hopes in this medieval place, between bouts of brain-drying bacchanalia and intent debauchery, to, well, become a knight. He is proud, hot (if not vain) and inexperienced. He will have an adventure across a year, after confronting a Green Knight at court—an immense rider at least partially tree—and presuming that chopping his head off would be just the trick. (It is not, and the slow clock of seasons starts its pace.)
There was a French style of filmmaking in the 1980s called, disparagingly by some, the "cinéma du look," its prima exemplar Jean-Jacques Beineix's "Diva" (1981). "Blade Runner" (1982), with Ridley Scott at his most bristling-glistening, and Paul Schrader's Ferdinando Scarfiotti design hoedowns like "American Gigolo" (1980) and "Cat People" (1982) were in that moment, too. Puritanical hands were thrown high at luxurious, even decadent production design that was read in the moment only as unironic gloss. David Lowery's knight's quest has affinities with those filmmakers and that moment, but his "look" is deceptive: a soft, still dawning world drawn with a palette of forest and fog, dun and peat, droplets, mist and motes. The serene, confident pacing accommodates the atmospheric possibilities when one stops to survey built environments of video games like Hideo Kojima's days-long "Death Stranding." There's a tickle of Tarkovsky; momentous masks and a round table where rituals could be extensions of "Eyes Wide Shut." (Kubrick would nod sagely at a golden sun-blessed post-come shot after one of the women Gawain encounters enchants his essence.)
In a two-and-a-half page introduction to a new paperback of the poem, Lowery writes, offhandedly, that he "randomly decided in 2018 that I wanted to make a medieval adventure film" but also admits that his play with lore of the knights is only another of so many variations in the seven centuries since it was put down "There is, to put it mildly, a whole lot going on here," Lowery writes. In one of the longest spoken bits in the movie, which Lowery cites in the book's introduction, there is this brash line: "They're tales I've heard, songs that have been sung to me. I write them down and—don't tell anyone this—when I see room for improvements, I make them." Lowery's improvements, as in all of his work, betray his inclination toward asperity. As director-editor, Lowery cuts to the quick, with a splinter of an image indicating a much larger action, or obscuring a large set for a larger close-up, or elongating the pacing of a shot or a scene past any expectation. An example: An early shot frames a courtyard of peasant simplicity, a space that holds a few figures as well as a squalling, nipping duck and other livestock, and one slowly realizes that a larger building in the background is ablaze, and the camera travels backward, taking on the frame of a door and across the insistent splishing of a leak into a small, eddying puddle and then arrives at our dreaming Gawain, whose partner swiftly splashes him with water to draw him from the night errant before. There are Dutch painters you could call out here—Brueghel with fewer figures within a denuded landscape—as well as scenes of pillage and splash and splatter in Tarkovsky's "Andrei Rublev," but the design research for "The Green Knight" is absorbed into its wholly realized world. Credit cinematographer Andrew Droz Palermo ("A Ghost Story," "Rich Hill"), production designer Jade Healy ("I, Tonya," "The Killing of a Sacred Deer," "Pete's Dragon") and costume designer Malgosia Turzanska ("Stranger Things," "You Were Never Really Here"): dank joy is had. There is a pan of more than 360 degrees that takes in a forest, and as in a dream, the passage of season after season of who knows how many years blooms and fades in a brief span of time: it's part of what is wholly imagined within the ongoing hallucinations of Lowery's picture, but also as a compact edition of the ghost stuck in the final decades and centuries of his "A Ghost Story."
Among the movies that Lowery rushes to identify as inspiration and encouragement of he and his team's fancies: Francis Coppola's "Bram Stoker's Dracula"; "The Dark Crystal"; Sofia Coppola's "Marie Antoinette" and Carl Theodor Dreyer's "The Passion of Joan of Arc." (Add to the whoosh of background influence both the restraint of Bresson's "Lancelot du lac" (1975) and at fewer moments, the mad sweep of John Boorman's "Excalibur" (1981). A huge world is constructed in the wilds of Ireland, yet as with his text, Lowery sheds historical calisthenics, looking upon the faces of his ever-learning, often-confounded figures, including the soulful yet unfilled—not unfulfilled, but unfilled, ready to be filled with knowledge of the strange worlds that likely lie four moons away. There is landscape and magic and still, the eyes have it. There is also a plenitude of foxes: speak, vulpus vulpus! In theaters, including the Music Box.
EVERYBODY'S TALKING
"Stillwater"
With the return of movies, controversy is back, too, including Scarlett Johansson's lawsuit against Disney over her "Black Widow" contract and reactions to "Pig" and "Stillwater." "Pig" gets its poke from Brooke Jackson-Glidden at Eater Portland, who is disappointed that the fiction feature about the disruption of the life former chef Nicolas Cage shares in the forest with a truffle pig is not a documentary. "As someone who has covered the Portland restaurant industry for years," they write, many of the details in the movie were not literally so. "The idea that Portlanders wouldn't be interested in a pub caught me off-guard. Many chefs lean into a casual, pub-like atmosphere in Portland, and this city has a vast array of exceptional bar food…" Jackson-Glidden believes Portland hosts an unpretentious, collaborative food industry, and finally concedes, "'Pig' really isn't a food movie; it's a movie about art and time, the futility of life, and what grief teaches us about love and pain. But by using Portland as the backdrop, 'Pig' turns the city into a caricature without noting what makes it great." In an interview with London's Sunday Times, Matt Damon volunteers that his daughter only recently disabused him of casual  use of what he calls "the f-slur for a homosexual," and "Stillwater" has its temperature taken at Medium by Amanda Knox, on whose famous murder conviction writer-director Tom McCarthy based his film with Damon. (Damon disputed the account of the interview in a statement earlier this week.) "'Stillwater' was 'directly inspired by the Amanda Knox saga.' Director Tom McCarthy tells Vanity Fair, 'he couldn't help but imagine how it would feel to be in Knox's shoes'… but that didn't inspire him to ask me how it felt to be in my shoes. He became interested in the family dynamics of the 'Amanda Knox saga.' 'Who are the people that are visiting [her], and what are those relationships? Like, what's the story around the story?' My family and I have a lot to say about that, and would have told McCarthy… if he'd ever reached out," Knox writes. "But, all this I mostly forgive. I get it. There's money to be made, and you have no obligation to approach me. What I'm more bothered by is how this film, 'directly inspired by the Amanda Knox saga,' 'fictionalizes' me and this story." More at the link, along with considerations of larger issues of fictionalization and the consent, as well as the question, "Who Owns My Name?"
Ray Pride is Newcity's film critic and a contributing editor to Filmmaker magazine.
His multimedia history of Chicago "Ghost Signs" will be published soon. Previews of the project are on Twitter and on Instagram as Ghost Signs Chicago. More photography on Instagram.