Talking Screens: A Week In Chicago Film, August 20-26, 2021
Multiple movies make it to the multiplex this week, several without previews before week of release, including chiller "The Night House"; a Jonathan Nolan-produced writer-director debut, "Reminiscence," with Hugh Jackman as a "dream detective" in a future, sunken Miami where he struggles to convince clients that, no, really, they just don't, they really don't want to remember; and "The Protégé," with Michael Keaton as an "enigmatic killer," from the director of "Casino Royale." And Maggie Q as the murderer who's looking for the killer of her dead, deadly mentor Samuel L. Jackson. Sounds like a 1990s New Line fever dream of at least a few small, stylish joys. Kartemquin's "Unapologetic" opens at Siskel.  Facets reopens in September. Michael Keaton also materializes in the long-unseen "Game 6," from the only produced screenplay by elder novelist Don DeLillo. And, from 2010, while promoting his doc, "Restrepo," video of journalist-filmmaker Sebastian Junger on the place where Empire goes to fail: Afghanistan. Plus, a few reflections on the state of the film industry and one of the most expected effusions inside Quentin Tarantino's cockeyed self-novelization of "Once Upon A Time In Hollywood." And on disc, Hirokazu Kore-eda's tender, touching tonal marvel, "After Life" gets the deluxe Criterion Blu-ray edition.
OPENERS
During the many months of the ongoing pandemic, at least until August, distributors provided a streaming preview option for reviewers who were reluctant to rejoin crowds just yet. Multiple movies opening this week are previewed for reviewers in theaters only, and after our deadline, including "The Night House," in which nightmares arrive at a lake house built for the widow (the compelling Rebecca Hall) of a man who died suddenly. "Disturbing visions of a presence in the house calling to her, beckoning her with a ghostly allure," the press kit allows. "Against the advice of her friends, she begins digging into her husband's belongings, yearning for answers." Along for the mystery: Sarah Goldberg, Vondie Curtis-Hall, Evan Jonigkeit and Stacy Martin. In theaters from Friday, August 20.
Also yet to be scrutinized: "Reminiscence" promises neo-noir nostalgia, women on the run, time and memory twists (Jonathan Nolan is a co-producer) and a PG-13's worth of "strong violence, drug material throughout, sexual content and some strong language." From writer-director Lisa Joy, who worked with Nolan on "Westworld," "Reminiscence" finds Hugh Jackman playing Nick Bannister, a "private detective of the mind" (shades of last year's "Dreaming Grand Avenue") on the sunken coast of a future Miami who helps clients access memories best left buried. With Rebecca Ferguson and Thandiwe Newton. In theaters and on HBO Max for thirty-one days from Friday, August 20.
"Meet Janaé and Bella, two fierce abolitionists whose upbringing and experiences shape their activism and views on Black liberation," is Kartemquin Film's description of "Unapologetic," an inside look into movement work that could transform Chicago, from the police murder of Rekia Boyd to the election of mayor Lori Lightfoot. "This is Black history that we are making! Even if we don't, our stories gon' make it!" as one character puts it. "Unapologetic" is the first feature by director of photography and director Ashley O'Shay [Newcity Film 50], whose earlier work in shorts, promotions and work contributed to the Lifetime series, "Surviving R. Kelly" are dedicated to "illuminating marginalized voices." Siskel, opens Friday, August 20.
Still unseen, James Bond veteran hand Martin Campbell ("Casino Royale," "Green Lantern") directs assassin fantasy "The Protégé," with Samuel L. Jackson as "Moody," a legendary murderer who rescued Anna (Maggie Q) as a child and trained her to become "the world's most skilled contract killer." Vengeance is on her mind, natch, after Moody is swiftly killed, but she become entangled with another killer, played by Michael Keaton. Keaton as an "enigmatic" killer? And Robert Patrick in the mix as an obvious killer? Lionsgate, which distributes the John Wick movies, dips into 1990s-style New Line material. Eager claptrap or tasty popcorn? In theaters from Friday, August 20.
CHICAGO SEEN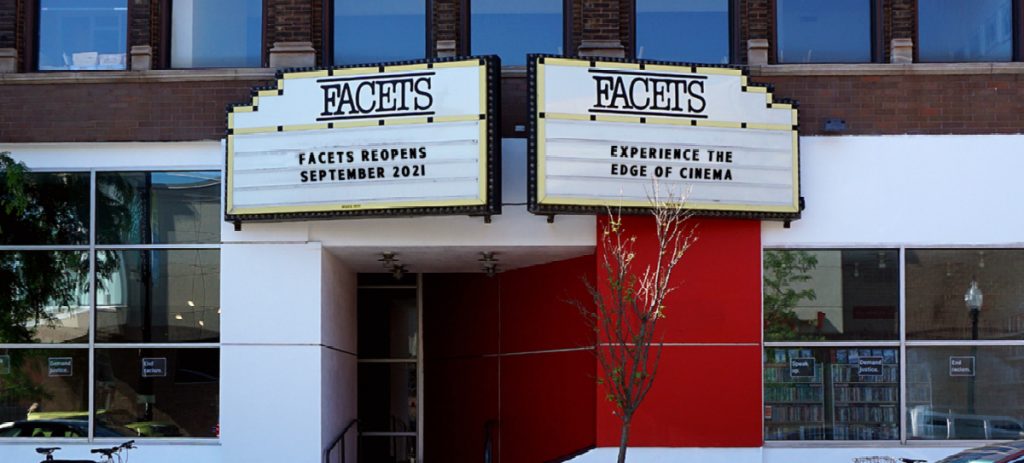 As reported in Today in Culture, FACETS is gearing up to reopen in restyled digs on Fullerton in Lincoln Park. The forty-six-year-old stalwart of Chicago kino, Facets, is reopening September 17, with fall programming to be announced next week. The blocky building has gotten upgrades: Facets' 125-seat theater continues its discerning, often provocative art-house deep cuts, as well as virtual cinema offerings to accommodate audiences that aren't ready to come to the show. Recognizing Chicago's wide pool of creativity, Facets also announced a program to offer microgrants and discounted theater rental rates to independent filmmakers. The former Facets Vidéothèque is now a café, and while the physical vidéothèque is no more, Facets members can still rent from Facets' large video library. "The lobby has been renovated to give moviegoers a more comfortable environment as well as to view visually driven, installation-based film and video art on a newly added projection system. Cinema 2, formerly a 50-seat theater, has been converted into a studio that is a black box flex-space that will contain workshops, non-traditional screenings and receptions," Facets relays in a release. Building repairs have been made to the roof and ceiling in the cinema. Enhancements have been made to ensure increased air circulation throughout the facility. The theater will also be BYOB. Programming listings are here.
EVERYBODY'S TALKING
Sebastian Junger was promoting his Afghanistan war documentary, "Restrepo," in mid-2010 when we talked about the place on earth that had defeated every empire from antiquity forward: Afghanistan. "The plot, the, quote, 'plot,' was nonexistent," Junger told me of the Sisyphean story he and Tim Hetherington put on screen. "They were marking time in a very dangerous place. They weren't moving forward to take Baghdad, they weren't storming the beaches at Normandy," he says.
"They were in a static position, pretty much doing the same thing over and over again. In terms of plot, that wasn't really where the center of gravity of the film was. It was really more the emotional development, the emotional experience of these soldiers." Eleven years later…
STREAM LIFE
"Game 6" (2005) is a notable and notorious instance of a decent, idiosyncratic film that plied its chances in the once-frozen mountainside climes of Sundance before falling off the world and into a black hole. A tense, anxiety-filled, lingo-bursting comedy with the 1986 World Series in the air, "Game 6" stars Michael Keaton, Robert Downey, Jr. and Griffin Dunne (a co-producer), with a script by novelist Don DeLillo ("Underworld," "White Noise"), scored by Yo La Tengo and directed by Michael Hoffman ("Soapdish," "A Midsummer Night's Dream"), it's a prestige piece of some kind you should have heard of it, right? The reasons for the flawed release and further indignities are detailed in a highly entertaining piece by Ross Scarano that ran in The Ringer in July 2020: "'It was about this Red Sox-loving playwright who goes on a vendetta against a critic on the opening night of his new play, which coincides with Game 6 of the 1986 World Series,' Griffin Dunne says. The double-barreled anxiety of sharing new, highly personal work, plus the masochistic burden of sports fandom, set in traffic-clogged Manhattan. A frazzled playwright, an unorthodox theater critic, Bill Buckner stooping for the grounder at first. There was a street-clearing asbestos explosion, reminiscent of the airborne toxic event in 'White Noise,' the novel that won DeLillo the National Book Award. And of course there was baseball, a subject close to the author's heart, a love he'd kept since boyhood. 'The idea was funny and dark and very DeLillo. So there it began.'" The travails are recounted, including the failed, minimal release and ownership issues that remained unresolved until now. What's there to be said? It's much more than a curiosity, and if any of this description appeals to you, you know it's a movie, regained, that will hold your attention however much a novelist's voice often drives the flow of the picture. That DeLillo kid? He sure shows promise. On video-on-demand.
HARD COPY
Quentin Tarantino's self-novelization of "Once Upon A Time In Hollywood" (no ellipsis, unlike the movie) has many movie-movie moving parts, and I talk about them a bit in the August issue of the magazine in a piece that also introduces some ideas about the state of the film industry, "What Dreams Are Made On: Tarantino From Heel To Toe And Back Again."
"Historically acerbic exec Barry Diller, who has not headed a studio for thirty-plus years, weighed in on the state of the post-pandemic, mid-streaming world of narrative feature filmmaking a few weeks ago at the reconstituted millionaire-billionaire media-mogul retreat in Sun Valley, Idaho. Diller, seventy-nine, vigorously shakes his fist at The Cloud. 'These streaming services have been making something that they call 'movies.' They ain't movies,' the executive who crafted the Fox network toward the end of the twentieth century told NPR… "They are some weird algorithmic process that has created things that last a hundred minutes or so.'"
Tarantino's abandon as a storyteller with his signature fetish within the many small pages of the mass-market paperback format makes a contrast to Diller's rhetorical abandonment of the century-old industry. "One thing the 'First Novel by Quentin Tarantino' gets is that the subjective particulars of fetish are fiendishly difficult to convey in prose. Descriptions in many novels—leaving pornography aside—illuminate nothing unless the reader shares the fetish. That is the insight David Cronenberg had in adapting J. G. Ballard's 'Crash' to the screen was that the cars-and-sex combo compulsion of his film would describe desire through a thing that no one in real life in fact desires. In his fiction 'What Belongs to You' and 'Cleanness,' Garth Greenwell is a rare master of particulars, both lyrical and blunt. The prose is as shocking for its adroitness as for its teeming candor. In Tarantino's prose, his life's work comes to fruition with the same directness of his camerawork and in thudding dreamlike repetition. The passages where Tarantino throws up his hands and just types make me feel more optimistic about heedless personal storytelling in feature film formats now and to come than anything in months: it's the 'gaze' gone berserk… 'She feels the wetness of the grass against the soles of her huge bare feet.' 'Squeaky's filthy petite bare feet pad their way across the dirty cracked linoleum floor…' 'As she continues to rattle on, he glances down at her feet. Oh shit, they're huge too. Debra Jo puts her huge dirty feet up on the Cadillac dashboard, pushes her filthy soles into the smooth cold glass of the windshield.'" More at the link.
SHELF REGARD
"If you could choose only one memory to hold on to for eternity, what would it be?" is the elemental question posed by "After Life" (1998), Hirokazu Kore-eda's assured follow-up to the magisterial, impossibly patient and calm "Maborosi." Kore-eda's is a quirky, quiet vision of the hereafter. On the festival circuit before its release, such as at Sundance, its gentle comedy and serene tone was a welcome diversion from a year filled with domestically produced careerism. Kore-eda's story unfolds in a pre-heaven limbo, where the dead are led through a process of selecting a single moment of happiness before moving on to the next world. Kore-eda, an experienced documentarian, drew on interviews with hundreds of aged Japanese, a handful of which provide the film's most moving, most amusing moments. There are passages of visionary beauty—simple, lyrical, unmatched. The Criterion Blu-ray edition includes new interviews with Kore-eda, stills photographer–cinematographer Masayoshi Sukita and cinematographer Yutaka Yamazaki, as well as an essay by 2016 Pulitzer Prize-winner for fiction, Viet Thanh Nguyen ("The Committed").