A Week In Chicago Film, February 18-24, 2022
Two major movies in minor mode are streaming, Josephine Decker's "The Sky Is Everywhere," a feat of unapologetic beauty in the form of a young adult adaptation, and Steven Soderbergh's superb, small thriller, "KIMI."
Opening this week: Netflix's "direct sequel" to "The Texas Chainsaw Massacre." a group of young folk think they're going to start a business in remote Texas, but "their dream soon turns into a waking nightmare when they accidentally disrupt the home of Leatherface, the deranged serial killer whose blood-soaked legacy continues to haunt the area's residents—including Sally Hardesty, the sole survivor of his infamous 1973 massacre who's hellbent on revenge." Beth Elise Hawk's "Breaking Bread" captures the annual A-Sham Arabic Food Festival in Haifa, the first event where Arab and Jewish chefs collaborate; it opens at Landmark Renaissance in Highland Park. Channing Tatum co-directs and spends some quality time with a Belgian Malinois in the clock-driven buddy comedy-drama "Dog." He's an ex-Marine ranger who accompanies the volatile Lulu, the dog of the title, to the funeral of her handler 1,500 miles away. Are there hints of "The Last Detail" along the way? "Bergman Island" filmmaker Mia Hansen-Løve's superb, auspicious feature debut, 2007's fragmentary "All Is Forgiven" (Tout est pardonné"), made when the actress-turned-auteur was only twenty-five, receives its first American theatrical release, starting Friday, February 18 at Facets. Also: Albert Birney and Kentucker Audley's lo-fi phantasmagoria "Strawberry Mansion," opens Friday at the Music Box: "In 2035, our dreams are no longer our own—they're infused with product placement and auditors assess unpaid taxes on our most private reveries," Music Box Films synopsizes. "Beleaguered taxman James Preble (Kentucker Audley) arrives at a run-down house in the countryside for a routine audit and encounters Bella Isadora (Penny Fuller), a lifelong dreamer who remains resolutely analog, circumventing the surveillance state with VHS tapes and homemade headgear." Revivals this week: "Stalker," "The Last Temptation Of Christ," "Peggy Sue Got Married" and "Wild At Heart"; plus titles are announced for the two-week twenty-fifth edition of the Siskel's Chicago European Union Film Festival.
STREAM LIFE
"KIMI" is a prototypical Steven Soderbergh mid-career picture, a taut B-movie premise conveyed in a breathless A-plus eighty-nine-minute form. Zoë Kravitz is an agoraphobic monitor of voice streams for a seat-of-their-pants Alexa-Siri-type startup; her cocooned life in a nicely appointed Seattle loft is knocked askew when she hears what she takes as an assault. Soderbergh's homages to 1970s paranoid thrillers, and movies like "Blow-Up" and "Blow Out" and "The Conversation" are lovingly integrated: the variations (and even understated homages) the veteran director plays are in the service of David Koepp's capable script. It's a superb piece of work, and impressive as Soderbergh's third feature in fourteen months. (The other two, also released as streaming-only on HBO Max, are "Let Them All Talk" and "No Sudden Move.") Soderbergh traffics in the elemental yet off-handed craft that American moviegoers could take for granted for a few decades: well-paced storytelling, cannily constructed and a pleasure to watch. To pluck one element: Kravitz's performance, as much acting with body as face, in her transformation from an anime-inflected innocent who can't open the front door of the castle, to a shuffling avenger, hugging walls and shadows, once on the streets of the busy city. The raft of knowing reviews are gratifying: there's so much to enjoy, so much to say, about this gorgeous gem. "Kimi" is on HBO Max.
The extravagantly romantic, ceaselessly elegant "The Sky Is Everywhere" is the first adaptation by Josephine Decker, whose earlier work includes the small, lyrical pleasures "Butter on the Latch" (2013), "Thou Wast Mild and Lovely" (2014) and "Madeline's Madeline" (2018), as well as the jarring biography "Shirley" (2020). With the grander scope afforded by a larger budget, Decker elevates a young adult novel and its emotional sway to her own enveloping level: the northern California redwood forests are floral and sensations are epic for Lennie, a seventeen-year-old musical prodigy (Grace Kaufman) who finds first love while still riven with grief after the death of her older sister. There are few limits for Lennie, Kaufman and Decker in this tender rebuke of cynicism: the results are swamping, endearing, fathoms of beauty. Too much is just right. With Pico Alexander, Jason Segel, Cherry Jones. "The Sky Is Everywhere" is on Apple TV Plus.
REVIVALS
David Lynch's 1990 "Wild at Heart" is the Film Center's "Bad Romance" of the week, Sunday, February 20. (The Film Center has also announced its nineteen-feature line-up for the March 4-17 twenty-fifth annual Chicago European Union Film Festival.)
The Music Box "Highs And Lows" series clashes Francis Coppola's "Peggy Sue Got Married" (1986) and Martin Scorsese's "The Last Temptation of Christ" (1988) on Sunday, February 20. Why? "These two 1980s Brat Pack-era masterworks make no qualms about relishing the awful pangs of regret, while also embracing the tear-soaked beauty that life has to offer, culminating in a double feature that will leave the viewer holding the paramount experiences of life closer than ever." No regrets: both films are shown on 35mm.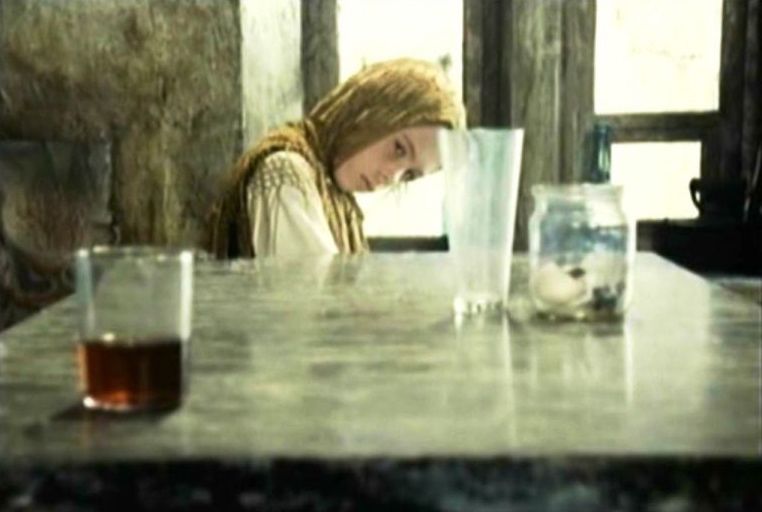 The Siskel Film Center continues its "50/50" series with Andrei Tarkovsky's "Stalker," which I've had a multitude of encounters with since my early twenties. The first time: I got off the plane late in the day at Heathrow, ready to spend my first expanse of time abroad. It was dark and it was rainy in London and I went in search of a movie. I spent a lot of that cold, rainy spring at the theater in the West End (when tickets were absurdly cheap) and in the galleries of the old Tate, especially the sprawling dreamscapes of the J.M.W. Turner rooms. But after dropping luggage at a bedsit in those first few hours, I wandered my way into a Curzon theater for a midnight double feature, terse but not perky "Pickpocket" and Andrei Tarkovsky's "Stalker." The hope of the trip—to wallow in cultural experiences I hadn't in Chicago—opened wide at Bresson's rigor, even as jet lag and a small measure of exhaustion kicked in. I have a strong memory of that first dreamlike descent into Tarkovsky's hallucination of a man, a Stalker, who is a guide for others to traverse a forbidden zone, a devastated, post-Chernobyl-like wilderness, toward The Room, a place where your greatest wish will be granted. Later, VHS copies and DVDs of variable quality would be released, and the strongest memory I have is from a Film Center presentation years ago of a print that had been spirited from a Russian archive, shimmering in its black-and-white scenes, as well as outside the Zone, in pale color and blacks and grays and so much verdigris-green as if embossed on parchment. A journey: like my hop across an ocean to serendipitously fall under its spell in a city nearly as wet as Tarkovsky's waterlogged, pond-skimmed, rivulet-spidered multi-leveled allegory. In whatever format, it is another incarnation, yet another murmuring of a movie that once seen, will be dreamt again and again. When asked if I have a favorite ending of any movie, I don't know what to say, but the majestic simplicity of the last shot of "Stalker" always rushes to mind and off the tip of my tongue. It is transformative magic. Siskel Film Center, Monday, February 21.