The shaggy headshake of oldster cliché, "They sure don't make 'em like that anymore!" has been supplanted by 2022's torrents of online supposition of just about any movie made before the Netflix era, "They couldn't make that movie today!" 
Mel Brooks' "Blazing Saddles," which was released forty-eight years ago last month, is the poster child that loosed the first cascades of Twitter remarks, and then longer bits, even leaps toward essays, which pronounced in bright tones that the virtues, comedic or dramatic, of movies of yesteryear, could no longer be transmitted by mass media. 
Could the screenplay credited to Brooks, Richard Pryor, Alan Uger, Norman Steinberg and Andrew Bergman—whose first draft, "Tex X," was the template—feature any of its flights of parodic fancy in a more politically sensitive time, or a time in which artistic endeavors that stick up from the floorboards are targets for all-day hammering from cadres of culture commentators? 
Where to begin, even after days of wading the digital swamps? Let's start with Heraclitus, the Greek philosopher who history credits with venturing a couple millennia ago that "No man ever steps in the same river twice, for it's not the same river and he's not the same man." Is there anything more to say after that long-lingering motto? The ongoing commentary boasts a fundamental misunderstanding about how attitudes are transmitted, how art is made and manufactured, and how collaborative artifacts enter and sometimes reside in the cultural bloodstream.
Sticking to feature films, rather than eddying into other arts, let's agree that a movie is made in its moment, its raft of creators, cast and crew reflect the here and now even if a story is set there and then. (You just can't help yourself.) With "Blazing Saddles," the pop-culture targets that Brooks & Co. satirize are, almost a half century later, museum pieces. (Brooks insists that parody works only when a present-day or latter-day audience can laugh without recognizing all the targets.)
Who better to turn to then Brooks himself? In his exuberant recently published memoir, "All About Me! My Remarkable Life In Show Business," which Brooks himself has recorded as an audiobook at the fine age of ninety-five, the veteran showman recounts his life with his customary brio, elan and joy. "In terms of my career, by 1971, I had the artist part figured out. I had two Oscars and lots of critical acclaim. The starving artist part was starting to get to me!" he recounts. "I had worked for close to two years on both 'The Producers' and 'The Twelve Chairs' and only made $50,000 for each film to write, direct, and act. I had my doubts about making a living in the movie business." Then one day, on the street in New York, Brooks was hailed by then-agent David Begelman. Brooks remembers the salient points of that happenstance: "I had eggs Benedict with very good coffee." Begelman had read a rough draft of a screenplay, "Tex X," by Andrew Bergman ("The In-Laws"), that he thought suited Brooks: "A movie that you were born to make. It's all over the place, but there's some wonderful stuff in it and I know that if you put your crazy talented mind to it, it would be sensational." Brooks demurred, saying he only directed his own material. Begelman mentions $100,000. "'Wait, David,' I said. 'Let me rethink my last sentence… Given the right circumstances, I might be for hire!'"
"The script was, in fact, crazy!" Brooks writes. "It was a Western poking fun at Westerns. The dialogue was 1974, and the setting was 1874. It was right up my alley. I loved it. I knew it was the beginning of something that could be very, very good." He wanted to work with Bergman, and also "go back to what I know and use a gang of comedy writers."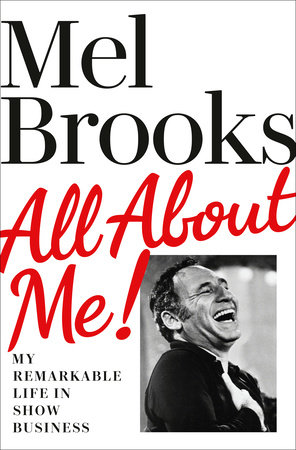 He also asked for Richard Pryor. "Since this story was about a Black sheriff in a white Western town, I knew I needed Richard Pryor to be one of the writers. Nobody could tell stories about family with such vigor, passion and insanity and comedy like Richard Pryor. His comedy came from the humanity that he had experienced. There was something so profoundly and infinitely soulful, sweet and moving about Richard. He never lied. His monologues were explanations of his life and his adventures. It was memory- and character-driven comedy."
The writer's room was decorated with an imperative: "FIRST, WE LAUGH." Brooks writes, "When you parody something, you move the truth sideways. With 'Blazing Saddles,' we moved the truth out onto the street. I told the writers: 'Write anything you want. We will never be heard from again. We will all be in jail for making this movie.'"
"When it came to working on the script, there was never a subject I thought was off-limits or untouchable," Brooks continues. "If we thought of something, if it even entered our minds, no matter how bizarre or how crazy or dirty or wild or savage or not socially acceptable…we would still do it. Because if it came into our minds, it was worth exploring. The tone I set for the writing team was the freedom that comes from having nothing to lose. In the writing of 'Blazing Saddles,' we had absolutely no restrictions on any and all subjects… Even though it was a wild comedy, it had a great engine beneath the comedy that was driving it. If I ever taught comedy or comedy movies to film students, I would tell them crazy comedy alone doesn't work. If you want a comedy to last, there's a secret you must follow: You have to have an engine driving it. In 'Blazing Saddles,' there's a very serious backstory. Racial prejudice is the engine that really drives the film and helps to make it work."
An old commonplace about filmmaking is that the story of making any movie will be at least as interesting as the movie itself, always more complex and usually more dramatic. There's much, much more of this kind of stuff in the memoir, including the Warner head of production's reminder to Brooks about the campfire scene in "Blazing Saddles": "I remembered John Calley's motto: 'If you're gonna step up to the bell—ring it!'" 
The stories of storytelling, lengthier and so much sweeter than a Tweet: "Blazing Saddles" was made in the forge of early 1970s America, early 1970s Hollywood, under the knowing eye of the ever-erudite executive John Calley, and with a group of comic masterminds ready to make themselves, and they hoped, audiences, laugh like never before. So of course it couldn't be made today! Movies are circumstances as much as they are artifacts of a burst of concentrated creative and commercial activity. The submerged circumstances of any piece of work are unique, whether the effort is lasting or a soon-forgotten series of short, sharp farts. 
So why did Mel Brooks cross Fifty-Seventh street after a rainstorm, into the momentous river that rushed toward his first commercial success as a filmmaker? So he would make "Blazing Saddles" and have his unruly child loved and misunderstood for the rest of a long, happy life. It couldn't have been made any other way.