Talking Screens, A Week In Chicago Film, May 20-26, 2022
Another kino quietus on the new-release front as the exceptionally well-reviewed "Top Gun: Maverick" prepares to land on thousands of carriers next week. (Webster Place's opening Friday showtimes? 10am, 10:45am, 11:20am, 11:50am, 12:20pm, 1:20pm, 2:05pm, 2:40pm, 3:10pm, 3:40pm, 4:40pm, 5:25pm, 6pm, 6:30pm, 7pm, 8pm, 8:45pm, 9:20pm, 9:50pm and that extra-late 10:20pm.)
"Downton Abbey: A New Era" continues the franchise that began as a series as well as sustaining the legacy of stately "blue rinse" pictures that were, for many years, the highly profitable province of matinees in Britain, Australia and the States.
Alex Garland's third credited feature as writer-director, the mean, tight little essentialist fable, "Men," opens at the Music Box, River East, Newcity 14 and other theaters. Also at the Music Box, Ninja Thyberg's "Pleasure," a detailed traipse through a version of Los Angeles' porn industry.
Documentary showcase Doc10 runs this weekend, May 19-22, and we talked trends and triumphs with se1nior programmer Anthony Kaufman. Gordon Quinn will be the in-person guest of The Doc Talk Show, interviewed by Bob Hercules on Wednesday, May 25. And, at the Hideout, a film tribute to the late Cynthia Plaster Caster.
Repertory attractions are deliciously eclectic, and include Francis Ford Coppola's "The Conversation" on 35mm; Wong Kar-wai's "Ashes of Time"; Elaine May's "Ishtar"; Paul Schrader's "Light Sleeper"; Busby Berkeley's "The Gang's all Here"; Terrence Malick's "The Tree Of Life"; the Coen Bros.' "Burn After Reading." Plus: campy midnight shows of "Shrek" at the Music Box May 20-21, which a croupy little girl gave the best review ever to during a Chicago press screening about forty-five minutes into "Shrek The Third": "Mommy, can we go home and watch 'Shrek'?"
OPENERS
Alex Garland is in the middle of production of his fourth credited feature as director, a thriller for A24 called "Civil War," and in a handful of interviews he's given for his blunt yet suggestive parable, the fantastic "Men," opening this Friday at the Music Box, River East and other theaters, the novelist-screenwriter-producer indicates he's sick of the gig. As he tells David Sims at the Atlantic, "I sometimes think there's huge pressure in filmmaking, from all sorts of areas, to be very conservative. You want to appeal to as big an audience as possible, so you limit the kind of risks you take. And that seems like a shame. So, in a way, if I see a big swing, I'm very minded just to immediately take it." "Men" swings. There's much to dissect (or discern) in the elemental myth he's made. In the meantime, Garland tells Kyle Buchanan of the New York Times, in what reads as an almost shell-shocked interview, "I'm tired of feeling like a fraud. I've got so many other reasons to feel like a fraud, I don't need to add to it in a structural way with my job." (Read our review here.)
Swedish director Ninja Thyberg's keen, bracing "Pleasure" runs its fingers through and alights its gaze upon porn production in Los Angeles to colorful result: newcomer Sofia Kappel is the central figure the movie's antagonists—aka the coworkers in a colorful workplace drama—hope to mold and exploit. Kappel's "Bella Cherry" unapologetically wants to be a porn star, and "Pleasure" finds moments of genuine joy in her journey into the Valley of valleys and the elemental mechanics of producing sexual "content." She seeks success in a shitty job. "Pleasure"'s abiding message is not anti-sex worker, but anti-work. (You can find a range of opinions from members of the industry after a 2021 screening in an article in XBiz here.) Opens Friday, May 20 at the Music Box.
CHICAGO SEEN
The Hideout's booked this Sunday in memory of the indefatigable Cynthia Albritton, best known as Cynthia Plaster Caster. "Artist, writer and recovering groupie, Cynthia was known as the ultimate music fan but she also deeply loved film," the organizers write. The tribute will include rare clips, home movies and Jessica Everleth's feature bio-doc, "Plaster Caster." (My February 2001 Newcity feature and interview on the film is here.) "Cynthia's love of music is well-known but she also had a deep love of film," her close friend and Chicago Underground Film Festival artistic director Bryan Wendorf tells Newcity. "In the early 90s, she regularly attended weekly Sunday night movie parties at my house and was a constant presence at CUFF. For Cynthia, Sunday was always movie night which makes it fitting that we are doing this this Sunday evening." The Hideout's Tim Tuten is a fan, too: "Cynthia Plaster Caster's smile and spirit filled the Hideout for over twenty-five years. She was often in the audience, onstage or on the screen and always present. We will never let that go. She will always be molded into our DNA. Cynthia is not a statue to us. She is a living goddess." $10 suggested donation; proceeds go to Girls Rock Chicago. The Facebook link for the Sunday, May 22 evening is here.
We spoke to senior programmer Anthony Kaufman this week just as the seventh edition of Doc10, Chicago's best-of-the-best nonfiction showcase, starts at the Davis and Siskel. (More details on films here; tickets here.)
How thrilling is it or how frightening is it when a big chunk of the ten films turn out right before the event not only to hold the resonance you've recognized while programming, but fervent topicality?
I think all great documentaries are both timeless and timely—and while you're right that this year's slate has some exceedingly topical films ("The Janes," "Navalny," "A House Made of Splinters"), they are also going to be great and resonant ten years from now. And I would agree that many of our best artists have an ability to anticipate what's happening in the world and help us to work through these issues, challenges and traumas, and nonfiction filmmakers especially so. But I also think so many of these issues persistently hang over the American experience. Sierra Pettengill's "RIOTSVILLE USA" or Margaret Brown's "Descendant" might feel particularly resonant in the wake of our country's very visible battles over racism, reparations and economic and police violence, but of course, those things have also been around for a long time!
Are there any formal trends indicated by the films as a group? As in, how animation has grown more accepted since the days of "Waltz With Bashir" and now wholly embraced around the world with "Flee"? Are any of these formal trends reflective of what you've seen not just at other festivals and events but in all the work you've previewed for consideration?
We're continuing to see creative use of archival footage to tell stories, most astonishingly in this year's selections "Descendant," "RIOTSVILLE USA," "Fire of Love" and also "Navalny." All these films include footage that I've never seen before and never even knew existed, and in the case of historical footage, it's amazing to see archival images that literally alter our vision and expand our understanding of the past—and in the case of "Navalny," the present, as well.
Are there grander themes eddying out there that the DOC10 selections exemplify or amplify?
I'm not sure if it's in the films themselves or the trying times in which we live, but I think these documentaries attempt to provide some context or understanding or catharsis for the unhinged, off-kilter, increasingly dangerous world. They're certainly not providing escape. I don't expect audiences to go out to see "A House Made of Splinters" in the same way they go out to see "Doctor Strange." But for those who are sensitive to what's happening in the world, I feel like this movie, which shows the humanity, hope, heart and heartbreak of Ukrainian children and their caregivers offers a space for people to work through what's happening and what they're feeling about the war in Ukraine. For "We Feed People," it's ways to tackle the climate crisis and global food insecurity; for "Descendant," it's the catastrophic legacy of slavery; and so on.
These ten films cover a wide spectrum of issues.
At Doc10, I am intentionally curating ten films that tackle different issues and topics to offer a wide breadth of subject matter. But I do think what unites the films is a sense of empathy and catharsis. I should also say what I think is essential about Doc10 is the post-screening conversation, which helps cultivate this process.
How many movies would you estimate you've seen in the past festival year (not calendar year)?
Depends on how you define it. At the Chicago International Film Festival, watching films from approximately March-September, we look at about 800 feature-length docs. (But I have people helping me.) For Doc10, it's really just me and the folks at the Chicago Media Project, and that's culling from a smaller list of films, but it's looking closely at all the docs from Sundance, SXSW, True/False, and a few films out of Berlin and Hot Docs to see if any might be a good fit for us.
REVIVALS & REPERTORY
Busby Berkeley's Technicolor paean to choreography, bold colors, simple surrealism and virtuosic camera movement, "The Gang's All Here," is at the Music Box for a May 22 matinee.
Facets presents Terrence Malick's 2011 "Tree Of Life" as one of "Milos' Picks." "The temptation is not to think of Malick's non-specific religious elements as evangelical, say, but as his own our-nature-against-nature arbor-realism, universal yearning toward the infinite while tethered to the finite. …words spoken by the grown man Jack, played by Sean Penn, a letter home, to Home, to a home where a brother was lost, are murmorous like heartbeat that rises from pulse to the inner ear and lingers, chill thrum, languishing there, the moments, the eternities of moment before sleep. In the modern day, amid heightened spires, Jack's crystal cathedrals are no cathedrals at all, footfalls are followed by heartshake, the rustle of plans, the sketching of grids, geometry grim in infernal, incessant glitter. (Crystal redemption comes later at a scene at Gulf's edge in light and water of silver and blue.) Malick's gone native once more, following the breeze and tendril, but he interleaves the dandle and the caress, a lexicon of physical human gestures that repeat in other measure. A turn of a mother's pale calf is also her unexplained dream of soaring into the air in the front yard, unobserved, but also a neighbor woman's calf, but also how the human form turns, turns, back also moves to the light, to the light, and back, the source, the lamp, the limpid life of flicker or incandescence, modest against the star-spokes of late-day sun as it deliquesces into orange and pink pinpoint behind beloved mother's head. There is myth and literary parallels and musicological encrustation, all manner of pathways in and through. 'The Tree of Life' is not resistant to readings, it insists on them, obstinately." (A longer review is here.) Facets, Friday, May 20.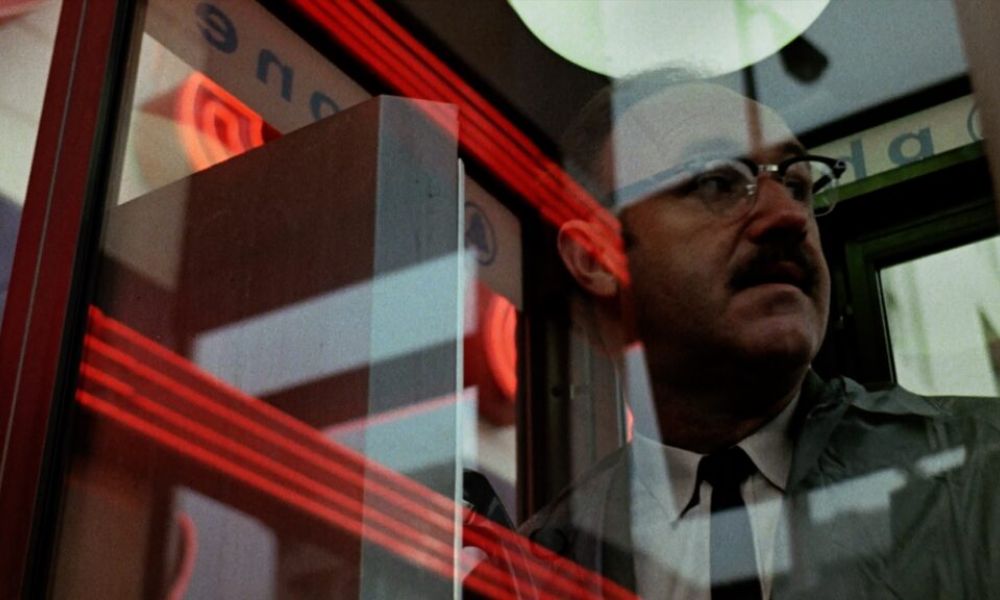 The 2022 restoration of "The Conversation" shows in 35mm at Siskel as part of the Haskell Wexler centenary. Francis Ford Coppola continues his legacy flex as an octogenarian filmmaker who's also world-champion cinematic copyright holder and self-preservationist as he prepares his autumn 2022 shoot of the $100 million-or-so epic "Megalopolis" with a restored 35mm version of the masterpiece that he created between "The Godfather" and "The Godfather Part II." Its hypnotic hold does not flag, no matter how many times you've seen it. Surveillance and guilt: secrets and sharers. Its paranoia matches that of any old denizen of our modern world. Siskel, May 25, 27.
John Woo's 1993 "Hard Boiled," an artifact of the now-lost Hong Kong film industry, demolished first by the handover to China, then economics, and now by a crackdown on all expression by the Chinese dictatorship, as well as Woo's own perfervidly inventive early years as a maker of kinetic, balletic, expressionist action, shows in 35mm as part of Siskel's yearlong "50/50" series. Siskel, Monday, May 23
One of the least-seen of the personal pictures by writer-director Paul Schrader—lonely men who wander, whose lives (and the films' titles) are defined by a job description—the neo-noir "Light Sleeper" shows in 35mm. Surely with his other work lining up, it's due for a restoration and a Criterion edition with the inevitable accompanying reevaluation (of just plain evaluation). (Here's a long conversation I had with Schrader, "mid-career," around the turn of the century.) Doc Films, Tuesday, May 24.
Doc Films is also showing the 2008 "Ashes of Time Redux," in 35mm, Wong Kar-wai's radical reedit of 1994 opus, is one of the films which is not included in Criterion's "World Of Wong Kar-wai" box set. Fevered eye candy of an extraordinary order, Wong's fourth feature trims the 1994 version of his martial-arts collaboration with cinematographer Chris Doyle and patches together fragmented elements from multiple versions of a film that was almost lost. Wong's 1994 "Chungking Express" was a toss-off made after the protracted battles to complete "Ashes," and its fierce, bright energy and wit contrasts strongly with the incomprehensible doings here. Mood reigns, especially with the digital-intermediate impositions of grain and color atop an already delirious movie. Improbably distended shadows, stark faces, mirror-like lakes, invented colors for skies of blue and green and celadon. There are many, many moments of pure cinema. Yo Yo Ma's cello solos are new, too. Doc Films, Friday, May 20.
Elaine May. Sigh. The eternal Miss May. In 2016, Richard Brody wrote in the New Yorker, "
Writing about '
Ishtar
' before, I emphasized May's depiction of artistic obsession, as an object of derision, a source of wild comedy, and nonetheless a tenderly sad tumult of affection. But seeing it again I was struck by something else: the film's view of the paranoid, intimate politics of partnership, and the way that it emerges from May's supremely precise direction." "Ishtar" shows in 35mm at
Doc Films, Wednesday, May 25
.
What better portrait of Washington, D. C.'s inner workings of the past two decades is there than the Coen brothers' cooly unhinged, genially splenetic 2008 black comedy 
"
Burn After Reading
"? The Coen of the realm is critiquing the alabaster reach of the high white reaches of American power. Their boobarama is populated with white people filled with black lies and dumb-ass dreams, white-on-white on blue sky.
The brothers 
pair its end credits with a live performance by the Fugs, of Tuli Kupferberg singing, "Fuckin' Amen" (the last line of the movie is "Tuli!"), a 1960s song about the CIA and CIA "men." ("Who can squash republics like bananas because they don't like their social manners? The CIA can.") As the disenfranchised CIA analyst whose troubles set the plot to pinwheeling, John Malkovich plays to his Steppenwolf-style strengths as a Punchinello of verbal fuckery, and the image of this fabulous fop in carpet slippers and a dressing gown rampaging down the streets of Brooklyn (doubling for Georgetown) with a hatchet in his hand and murder on his lips is inspired. Dry and deadly, "Burn After Reading" is savage, cynical, sarcastic vaudeville about the powers that be. 35mm.
Doc Films, Thursday, May 26