Talking Screens, A Week In Chicago Film, June 10-16, 2022
"Jurassic Park: Dominion" brings in the aging gang for one more survey of that "one big pile of shit"; previewed after our deadline. Anisia Uzeyman and Saul Williams' Afrofuturist "sci-fi punk musical" hacker revolt tale "Neptune Frost," is a bolt of unrelenting thought and image; David Cronenberg's skin-creasing, skin-crawling skin job "Crimes of the Future" is everything it's cracked up to be, and more.
The Music Box has five recently restored pictures by the ineffable wizard of all, Buster Keaton, with Dennis Scott at the mighty Music Box organ. Facets presents a weekend of the nineteenth African Diaspora Film Festival with highly lauded pictures shown at festival in the past year.
Two marvels in repertory on 35mm: Todd Haynes' 1995 "Safe," and Jean Luc-Godard's 1965 "Alphaville." Also: a glimpse of Olivier Assayas' HBO Max limited series, "Irma Vep," based on his 1996 feature, "Irma Vep," and Louis Feuillade's 1915-16 serial, "Les Vampires" which satirizes modern-day filmmaking. Plus, CUFF is holding a secretive benefit on June 11; details below. And, an Indian perspective on the epic worldwide action smash "RRR," still on screens in Telugu while on Netflix dubbed into Hindi.
OPENERS
I am pleased to report that Anisia Uzeyman and Saul Williams' haunted, haunting Afrofuturist dream-drenched, detail-driven "sci-fi punk musical" Burundi coltan-mining hacker-revolt tale "Neptune Frost" defies succinct summary. The world-building dream state (and accompanying divine glitches) unfolds with its own gorgeous oneiric flow, whereas sentences pin the screen to the page. (There's also a bed of  rap influence that's outside my sphere.)
I'm going to lean on a directors' statement, where testimony outstrips colliding language. (Saul Williams and Anisia Uzeyman directed: Williams wrote and composed; one of the executive producers is Lin-Manuel Miranda.) "How many longwinded pitches would it take to convince large-scale investors that a story that takes place in a little-known country, with rebellious and anti-establishment themes, and draws inspiration from many socio-political movements happening today, should be left in the hands of a poet? A poet who isn't interested in making films by committee, who has more critical acclaim than sales, who has never directed a film, who dreams to 'spark the brain that will change the world.' A poet who thinks the formulaic aesthetic that births reality stars and super-heroes alike takes its cues from a cultural mythos that is more invested in the bottom line than illuminating the rut at the bottom, who thinks the bottom is the top, who sees each high-priced tick in the stock market in association with the African country where the commodity is sourced then marks its ranking on the list of poorest nations, who thinks: 'Wait a minute. If it's that rich in resources, then how…' But who knows the answer, who sees how power corrupts and obstructs… it's a kind of colonial projection when dreams of distant galaxies are embedded with fears of being colonized by aliens, who thinks the internet, like poetry, is undefeated, who thinks the job of the poet is to decode, who calculates algorithmic swagger by those who don't follow, who knows the connection was there before the machine, who has never truly danced in a movie theater and thinks it's a shame, who knows each rhythm tells a story, who has a story to tell…" Made with a Rwandan and Burundian cast and crew; in English and Kinyarwanda, Swahili and French with English subtitles. Opens Friday, June 10 at Siskel.
HOLDOVERS
What a serene place is the mind of David Cronenberg! In "Crimes of the Future," and a movie that reveals itself as quintessential work from the nearly octogenarian intellectual scamp of a Canadian secular Jewish existentialist filmmaker (who has, not coincidentally, spoken lovingly of late of his hearing aids and the cataract surgery that gave him new eyes) and unearths a script called "Painkillers" that he wrote a couple decades ago, before his eight-year silence as a feature filmmaker, the rejection of a proposed Netflix limited series, and the passing in 2017 of his wife of many years. "At this critical junction in human history, one wonders—can the human body evolve to solve problems we have created?" is the philosophical perplex the writer-director places atop a story with protruding bones. A celebrated artist (Viggo Mortensen) stages performances in which superfluous organs that spontaneously fill his body are removed with the help of his partner (Lea Seydoux).
There's more plot and scurrying intrigue in cloacal chambers and along the streets of an unnamed city in an unnamed time (Athens; now)—plus actors like Kristen Stewart and Don McKellar making tasty treats from idiosyncratic intonation and line readings—and Cronenberg's undiminished willingness to prompt vacated seats is signaled early on with a pronounced bang. The body horror pioneer—let's just call him the reigning king—has no cause to relent (from a career of measured delirium). (Now let's see how long that opening weekend million-dollar U. S. theatrical gross holds.) Some thematic strands pulse and fade, while the heartbeat of the pessimistic telling remains the contemplation of what future human flesh can bear, through environmental transformation or intimate personal surgery? There's a couple generations that wouldn't see the rending and cutting and kissing and punctures and scarification as that far out of the ordinary. ("Surgery is sex, isn't it?" may be the most provocative of Cronenberg's murmured epigrams). While not erotic—as in "Crash," Cronenberg works outward from nonexistent fetish—the rending of the flesh is tender, contemplative, quietly stigmatic. "Crimes Of The Future" is also extremely funny: dry, Canadian Cronenberg wit, a dance with providential partners. His late masterpiece is bleak delight. The future is here; the metaphors are just unevenly distributed. "Crimes Of The Future" is playing at the Music Box, River East, Showplace ICON and other theaters.
REPERTORY & REVIVALS
"Stony Island," Chicago-bred director Andrew Davis' low-budget 1978 soul musical was made after working in activist documentary, but stays street level. His debut features studios and clubs, modest apartments and a palatial spread, but it's also a song of the South Side and downtown streets of that moment, an achievement he would surpass in a succession of crackling action pictures. In his Chicago-set work, Davis conscientiously captures the city with spatial integrity. Even in his little-seen film "The Package," more than one-hundred locations were "created" around the world, but all those sets were entirely in this town. Other renditions that come to mind include the glossy, high-budget look of street-level work achieved in 1993's "The Fugitive," 1985's "Code of Silence" and 1988's "Above the Law." Mayor Richard J. Daley, who despised having movies set in Chicago, died during the shooting; his funeral procession is featured. "Stony Island" follows the formation of the Stony Island Band, created for the film but comprised of real-life musicians Gene "Daddy G" Barge, Tennyson Stephens, and Stoney Robinson. 35mm print from Chicago Film Archives, co-presented with the Numero Group. Actor Richie Davis will appear. Chicago Film Society at the Music Box, Monday, June 13.
Todd Haynes' brutal, brutalizing "Safe," a visionary look at inexplicable health calamities of the twentieth century, effectively presages plagues to come, a masterpiece boasting one of the great film performances of all time. Julianne Moore, a small flickering flame called Carol, is sorrow and strength, fear and hope-against-hope. 35mm. "50/50" series at Siskel, Monday, June 13.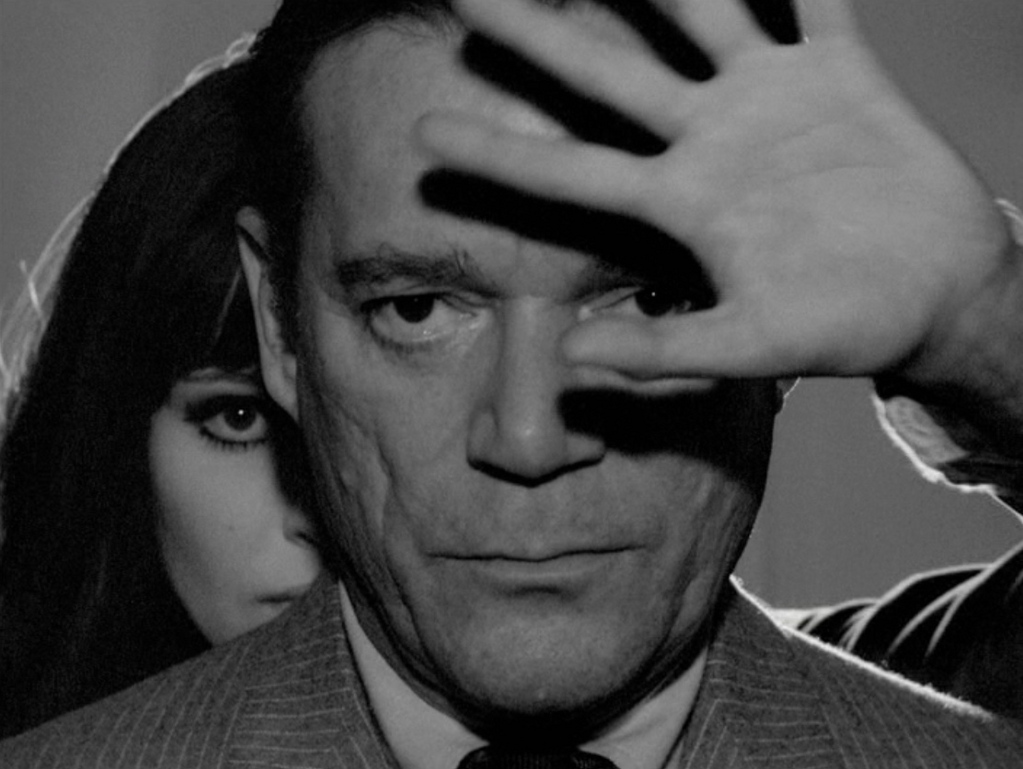 Fifty shades of grayscale: Jean-Luc Godard's 1965 "Alphaville" (A Strange Adventure of Lemmy Caution) is eternally nouveau, going on sixty years passé. One of the most entertaining movies of the seventy years of movies by Godard is also one of his most timeless. Drawing on a post-Bogart gumshoe character that Eddie Constantine had already smoked and drank his way through in Z-level Euro-thrillers, Godard creates a future landscape entirely from cannily curated elements of Paris, 1964. The City of Lights becomes the portal of portent. All you need to make a movie, or at least a nagging, haunt-your-dreams pre-neo-noir, is a gun, a girl and simmering philosophical asides. The shadowy web etched by cinematographer Raoul Coutard's black-and-white photography is countered by the luminosity of Godard's then-wife and matchless muse, Anna Karina. Her eyes shine as the corners of the city lurk, mute yet ominously expressive. Fittingly, this object from the past that partook in an imagined future, of an urban dystopia ruled by a brute computer called "Alpha 60," is newly restored, cleanly pixillated into the present tense of rapid-fire 1-0-1-0-1-0 sequences of data. Look up: it's still the "modern day." It's a newly modern reformulation of the on-the-fly, brusque black-and-white glories of what were once taken for granted via 35mm film. "Alphaville" is the kind of retro-futurist looking-backward-correctly kind of visual artifact that screens like the Music Box can now showcase in all their glory. Almost fifty years on, "Alphaville" compels like the best Godard, but entertains, too. The original French poster is one of the great, iconic film-fetish objects: I don't even have a wall big enough for the copy I found of the 1992 French reissue. Just like "Alphaville" itself, even on the largest screen. 35mm. Part of "Control.Alt.Delete" at Siskel, Thursday, June 16.
Music Box house organist Dennis Scott, official organist for the International Buster Keaton Society, will accompany showings this weekend of five just-restored Buster Keaton masterpieces, "College," "Go West," "One Week," "Our Hospitality" and "Steamboat Bill, Jr." Music Box, Saturday-Sunday June 11-12.
CHICAGO SEEN
FACETS presents the ADIFF Chicago 2022 Film Series, with ten films from ten countries, with nine U. S. premieres, running from June 10-12. For the nineteenth consecutive year, ADIFF Chicago and FACETS collaborate on a selection of award-winning films celebrating the human experience of people of color all over the world. "With FACETS in a reopening phase, the program this year will be a weekend Film Series spotlighting ten award-winning narrative films and documentaries from ten different countries. Several films explore important moments in history including 'Marighella' by Wagner Moura, an action-drama set in 1969 Brazil about the Afro-Brazilian Revolutionary urban fighter; 'Dancing the Twist in Bamako' by veteran French director Robert Guédiguian, a love story set in 1962 Mali; the noir romantic drama set during Apartheid, 'Back of The Moon: Sophiatown 1958' by Oscar-nominated South African director Angus Gibson; and the historical documentary 'Fighting for Respect: African Americans During WWI' by Joanne Burke, which looks at the contributions of African American soldiers in Europe and the USA in the 1910s." Series tickets and full film descriptions are here.
"You're All Wizards," a benefit for the 29th Chicago Underground Film Festival, will be Saturday, June 11 at C0-Prosperity. "As with everything else, the effects of the pandemic have affected CUFF tremendously," CUFF posts. "While we usually are brilliant wizards at putting on a festival with limited spells, this year we need a little assistance from our community to help us make the magic happen." Their hope is to raise $5,000 to cover half the cost of the Logan Theatre's rental fee; the benefit will include a pre-show DJ, along with drinks and food from MARZ and Kimski, followed by a "secret screening of a film so taboo we can't name it here or he who should not be named will send his death eaters after us." The Facebook listing is here.
STREAM LIFE
I have yet to preview Olivier Assayas' eight-hour limited series, "Irma Vep," his retooling of his 1990s feature of the same name for HBO Max, with Alicia Vikander swanning in for the first film's Maggie Cheung while Assayas reportedly has a joyful, ragged time derping in the margins of what moviemaking means today (rather than at the end of the twentieth century and in the second decade of that century). Let's see how seriously unserious the cerebrally playful French veteran can be. Streaming on HBO Max; first two episodes showing now.
BENEDICTIONS
A 10,000-word dump of data, diatribe and detritus has been posted by a writer Ritesh Babu, offering a range of information behind India's Telugu epic "RRR" that can't be found in any other single place. "From the moment it was announced, I was gripped by fear at the prospect of 'RRR.' Sure, the team-up of Ram Charan and NTR with Rajamouli is a fun enough idea. But a 1920s pre-Independence era India film about Indianness and Indian identity and the fight for a nation in Modi and the BJP's current India? It sent chills down my spine… And then I saw it… It is probably the greatest theater experience I've ever had with a film. I had a blast with it. It's a grand piece of pop spectacle that boasts great, exhilarating set-pieces and boasts a shonen-manga tier ode to The Power Of Friendship. But at the same time I was deeply, intensely uncomfortable watching it… I loved it where I could whilst finding it deeply, deeply discomforting and chilling. At its core, it's a film combining two types and trends of Telugu cinema—the Hindu myth-making epics at the roots of Telugu film, and… freedom fighter tales. Here the two intertwine deeply to create a cohesive whole and construct that may not be malicious in the way that 'The Kashmir Files' is, but it is troubling and deeply revealing in its unthinking nature. It may not be a capital H hindutva film, but it is a film that is very much an upper-caste Hindu projection and fantasy of the past." Much more here.