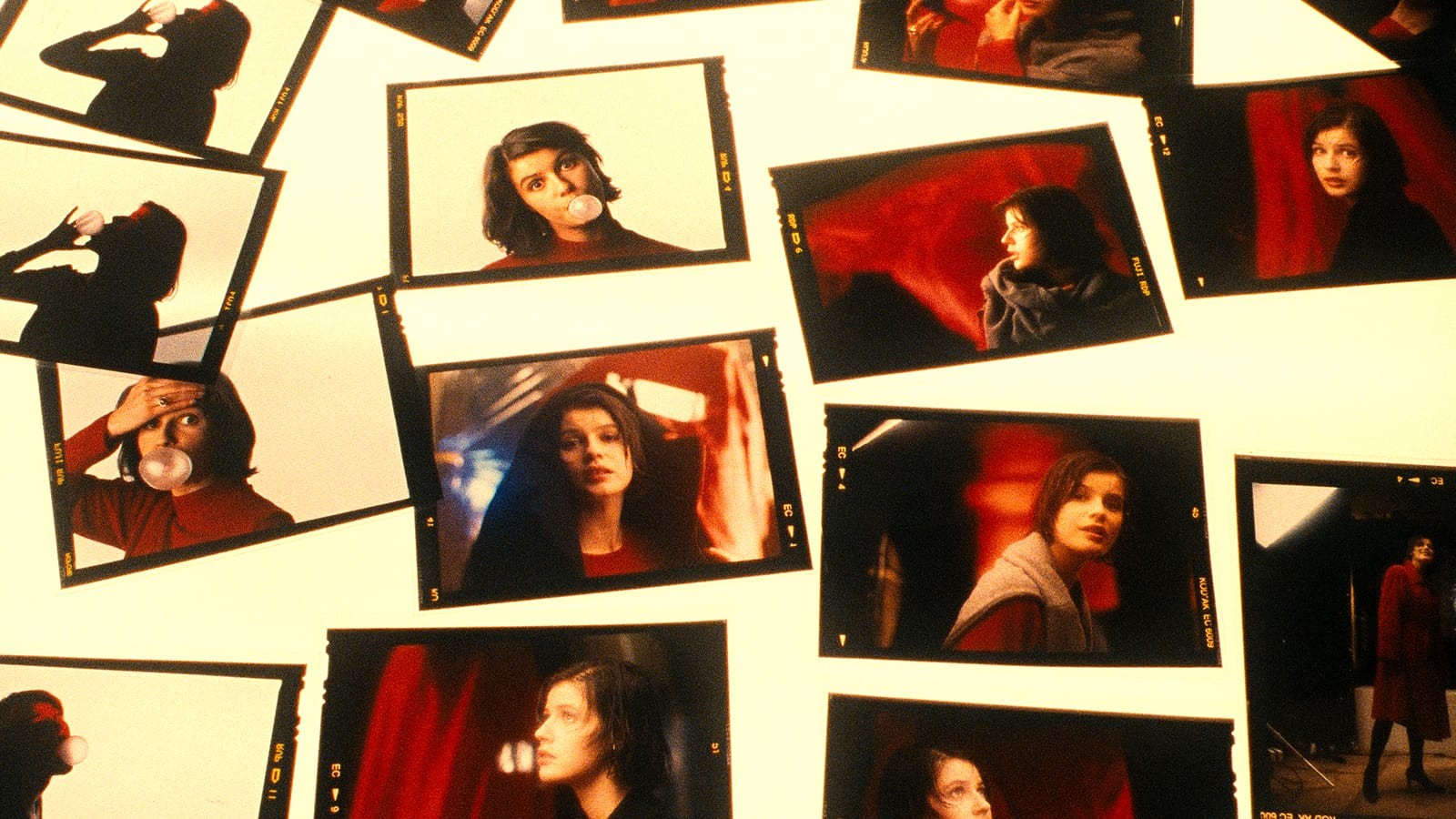 "Three Colors: Red"
Talking Screens, A Week In Chicago Film, September 9-15, 2022
Top of the charts: Janus Films presents a 4K digital restoration of Krzysztof Kieslowski's 1990s summa, the "Three Colors" trilogy at the Music Box. Jean Luc Herbulot's "Saloum" also plays the Music Box, a vital supernatural thriller-cum-spaghetti Western. Opens Friday, September 9 at the Music Box.
"Barbarian" is a claustrophobic horror with dirty doings at a double-booked rental home. Kevin Smith's mocku-autobiography "Clerks III" opens in theaters Tuesday, September 13 and runs through Sunday, September 18. (Our weary review is here.) The virtuosic actor Mathieu Amalric, also an accomplished filmmaker, directs "Hold Me Tight," with another vital performance by Vicky Krieps ("Phantom Thread," "Bergman Island"), this time playing a woman whose reasons for being on the run from her family mystify and beguile. Opens Friday, September 9 at Siskel. Mark Cousins, of the fifteen-hour-and-fifteen-minute "The Story Of Film: An Odyssey," (2011), takes a 160-minute look-see at the past decade of international moviemaking with "The Story Of Film: A New Generation," from Music Box at the Music Box.
Revivals include Powell-Pressburger's swoonworthy Hebrides romance, "I Know Where I'm Going" (1945); Tsai Ming-liang's melancholic farewell to damp fleapits, "Goodbye, Dragon Inn"; Dziga Vertov's monument of montage, "Man With A Movie Camera" (1929) at the Music Box on Monday, September 12; Claire Denis' wounding "Both Sides Of the Blade" at Facets, September 10-11; and "No Country For Old Men" on Monday, September 12 as this week's "50/50" feature at Siskel.
Robert Zemeckis has moved from being the reigning king of motion-capture to being the king of direct-to-streaming, with "Pinocchio" his most recent attraction to forgo a theatrical showing, after "The Witches" (2020). Disney Plus debuts his latest on September 8, a combination of live-action and CGI, with Tom Hanks as Geppetto, Benjamin Evan Ainsworth as Pinocchio and Joseph Gordon-Levitt as Jiminy Cricket. The faces and voices include Cynthia Erivo as the Blue Fairy; Keegan-Michael Key as "Honest" John, Lorraine Bracco as Sofia the Seagull and Luke Evans as "The Coachman."
Chicago filmmaker and professor Danielle Beverly is elected to the board of the University Film and Video Association.  From the September issue fall preview, a consideration of Sight & Sound's every-ten-years best-films-EVAR list. Plus, The New York Times' Brooks Barnes' take on the poor health of movie exhibition after summer's highly visible handful of hits and this week's Chapter 11 filing by the parent company of Regal Cinemas. And Michael Schultz, the oldest African American film director, remembers his early days making "Cooley High" (1975) in Chicago.
OPENERS
The greatest love I hold for the work of Krzysztof Kieslowski lies within "Three Colors: Red." (1994). "Red" opens at a tear, camera rushing from the telephone of a beautiful, somber woman along lines from the middle of Switzerland, across Europe, into the ocean, through fiber optics to another phone in England, only to encounter a busy signal—shown as a flashing red light in the phone exchange. Irène Jacob hangs up the phone and sulks. It's a fleet, jokey moment: an opening that hurtles toward making elemental connections, only to be rebuffed by the machinery of communication. Kieslowski made two epic projects in the same decade—the ten-film "Decalogue" and the "Three Colors" trilogy—that, at a glance, could suggest hubris and European art-film overkill. "The Decalogue," set amongst the tenants of a gloomy Polish housing estate, is derived, however obliquely, from the Ten Commandments, and "Blue," "White" and "Red" match the French tricolor flag, and the virtues ascribed to each: Liberty, Equality, and Fraternity. Kieslowski slyly uses his overweening "themes" as a way to minimize the suffocating structure of traditional plots and to instead dive into things that actually delight him: patterns of chance, the paths of our lives, enigmatic expressions on fascinating faces, the way contemporary life is transacted in modern cities, all observed with a mildly sarcastic shrug. The result is hypnotic and sensual, a fragrant montage of mood and image unlike that of any other filmmaker working in the 1990s.
Kieslowski's interpretation of Fraternity propels Valentine, a young model (Jacob, from Kieslowski's "Double Life of Veronique"), Auguste, taking his last exams to become a lawyer (Jean-Pierre Lorit), and Kern, a retired judge (Jean-Louis Trintignant) into the deceptive calm of a quiet suburb of Geneva. Auguste lives near Valentine, but does not meet her. Still, he smiles at her car alarm, catches a flash of her assured gait and sturdy calf as she ducks into a nearby cafe. (We watch them not catching sight of each other on several occasions.) One rainy night, after a cold phone call from her unseen, long-distance boyfriend in London, Valentine's red car hits a dog belonging to Kern, and finding his address on the dog's collar, returns it to him. But he's lost interest in the outside world, except in the telephone calls of his neighbors, neighbors whose histories, whose infidelities and secrets he eavesdrops upon with a clinical disinterest. (Kieslowski shows everyday life as the ultimate tragedy, reduced to the cruel artlessness of overheard conversation.) It's the same tack Kieslowski takes in teasing out the meaning of his collection of red objects, of missed meanings, of eccentric repetitions. Simultaneity takes the place of routine plot developments. "Red" feels like, well, life: Is the modern age Dickensian or Barthesian? Composed of strands of plot or shards of semiotics? Kieslowski's virtuosity lies in his ability to bury these notions in the flow of faces, motions, gestures, mysterious acts. It's a smart film, a worthy descendant of the intellectual cinema of filmmakers like Bresson and Antonioni, rigorous, cool, yet highly erotic in the contemplation of surfaces that must somehow reveal inner lives, innermost thoughts. The restored "Three Colors" trilogy opens Friday, September 9 at the Music Box with series passes available.
Jean Luc Herbulot's "Saloum" is a vital supernatural thriller-cum-spaghetti Western that starts with stolen gold and also in its genre meltdown encompasses a coup in Guinea-Bissau, a drug lord, a band of mercenaries known as the Bangui Hyenas and a retreat to a holiday camp in Sine-Saloum where the secrets uncovered are darker and even otherworldly. Opens Friday, September 9 at the Music Box.
"The Story Of Film: A New Generation" is a pleasing kaleidoscope of imagery from a decades' worth of worldwide expression and occasional lyricism; the prodigious, prolific polymath writer-producer-director Cousins' narration is at times a detriment, whether making unlikely linkages which have no room to play out, or in his sleepy burr, which is monotonous at times. Maybe if there were a half dozen or a dozen filmmakers given to running through the archives at this velocity? Cousins is a kind viewer, and a curious one, and the range of clips is wildly generous. Opens Friday, September 9 at the Music Box.
REPERTORY & REVIVALS
The saddest, most melancholy, dampest telling of the closure of a fleapit, Tsai Ming-liang's minimalist yet epically moving "Goodbye, Dragon Inn" (2003) observes the denizens of the rundown Fu-Ho movie palace in Taipei as the edifice prepares to close, to collapse into memory. This showing is the opening salvo of a Tsai series which will include "Stray Dogs" (2013) and "Days" (2020) and conclude in October with a lecture by the filmmaker. Siskel, Monday, September 12.
"No Country For Old Men" echoes the depths of the Coens' earlier work, or at least the intelligence that keeps their sarcasm (mostly) from sourness. Working with Roger Deakins, their usual cameraman, they shoot 1970 bordertown Texas with epic assurance, capturing men against the sky as well as they do a man's or a woman's foibles against the confines of the comedy frame. The casting is superb, but the notes each of the actors are allowed to search out and discover are what make "No Country For Old Men" at least within a well-hurled rock's throw of a "masterpiece" as some writers from its Cannes debut had gratefully dubbed this glory of pearlescent carborundum. (Dark. Dark and funny like the Bible is dark and funny.) Part of the yearlong "50/50" celebration. Siskel, Monday, September 12.
CHICAGO SEEN
Filmmaker and Northwestern assistant professor Danielle Beverly [Newcity Film 50] is one of four figures newly elected to the board of the University Film and Video Association. Comprised of more than 700 members, the UFVA is the leading association in the United States dedicated to the promotion and study of moving image practice in higher education.
BENEDICTIONS
A mix of polemic and hierarchy, Sight and Sound magazine's once-a-decade ten-best-films, or, immodestly, "The Greatest Films of All Time," collated from submissions to an invited range of programmers, filmmakers, academics and reviewers will be published in the magazine this month along with a vertiginous online roster of individual lists. A consideration here.
The Criterion Collection will release a remastered special edition of "Cooley High" in December, the "coming-of-age drama set in the 1960s at a school in Chicago." Filmmaker Michael Schultz looks back with Reggie Ugwu at the New York Times. "The editor of a film I'd done, 'Together for Days' (1972) [a kind of gender-swapped, post-civil rights-era update of 'Guess Who's Coming to Dinner'], connected me with the producer Steve Krantz. He had met the writer, Eric Monte, and they had a script based on all of these incredible stories Eric had from growing up in the Cabrini Green [housing project] of Chicago. But the script wasn't really a script—it was still mostly just stories. So I met with Eric for seven or eight hours a day for four weeks. Every night, me and my wife [Gloria Schultz] would cut everything down until we had the completed script… It had this perfect dramatic twist in the death of a friend that sends the main character off to pursue his dreams. That really happened to Eric. And I thought it could be a window into the lives of Black kids that had never been seen before. My theory was that if it was as culturally specific as possible, and as Black as possible, it would translate across the racial divide and people would fall in love with these kids and their humanity."
"Almost everyone agrees that the 117-year-old movie exhibition business cannot keep going like this. But hardly anybody agrees on precisely the best way forward," writes Brooks Barnes at the New York Times. "One obvious if drastic step, analysts say, is for the biggest theater companies to close thousands of underperforming screens. There are 40,700 screens in the United States and Canada, and even some theater executives concede that there should be no more than 35,000. A few think 25,000 is a healthier target." Regal Cinemas filed for Chapter 11 bankruptcy on Wednesday, September 7: "The London-based business said the company and its subsidiaries had started legal proceedings in the United States Bankruptcy Court for the Southern District of Texas in a bid to reduce its debts. During its restructuring, the company said it expected to operate its business as usual with vendors, suppliers and employees being paid."
About 500 theaters have closed since the onset of the pandemic. More closures are expected. More from Barnes: "About twenty-percent of screens—increasingly, experiences like IMAX that make it special and worthwhile—generate eighty percent of the business," said Richard L. Gelfond, the chief executive of IMAX, which licenses its technology to theaters. "Except in unique cases, nobody needs a twenty-plex anymore. Period. Exclamation point." Adds a securities analyst: "We're going to see smaller, noncorporate screens start to disappear in greater numbers… It's actually good for the operators that survive."